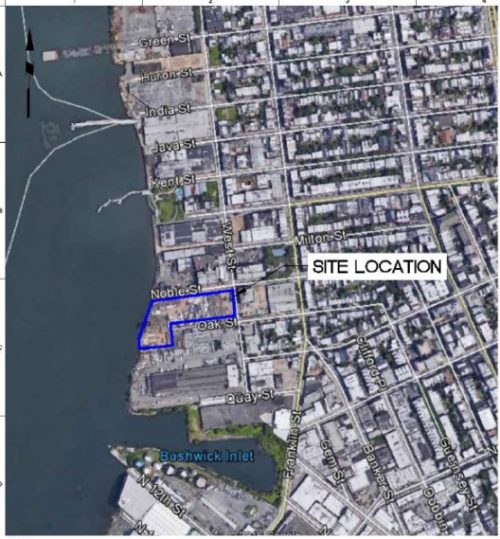 The environmental cleanup of toxins at part of the former American Manufacturing Company/Greenpoint Terminal site is slated to begin this month under the New York State Dept. of Environmental Conservation's Brownfield Cleanup Program.
Remediation at 47- 53 West St. and 2 – 24 Oak St. will last approximately five months and includes excavation of historic fill, backfilling and construction and maintenance of an "impervious cover (e.g., concrete) or two feet of clean crushed stone," according to the DEC fact sheet. A community air monitoring plan will also be implemented during the cleanup.
Some site history from the DEC:
The site is 3.98-acres and is bordered on the west by the East River, on the south by Former Consolidated Freightways (BCP Site No. C224191), on the east by West Street, and on the north by Noble Street. It is currently used for storage of heating, ventilation and air conditioning (HVAC) equipment, granite, and flatbed trucks. The site was previously occupied by five separate buildings that were demolished by a fire in 2006. The only remaining structure is an approximately 1,400-square-foot concrete silo, which will remain in place after RAWP implementation. Historically, the site was used as a shipyard, a manufacturing facility, a mill, and the Greenpoint Terminal Corporation facility.