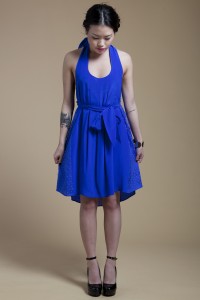 7:30am on the G train is no fun. I barely rolled out of bed and somehow managed to put on clothes. My hair is still a mess but I don't have time to fix it. Must catch train now!
My journey to Manhattan takes me on a race with my fellow Greenpointers. I have until Court Square to  browse for cute guys and chic gals. It is sometimes just a detail that catches my eye: neon laces, vintage sunglasses or nail art.
I start making up a story about them, asking myself: Where is he from? Where does she work? Why those shoes? And most importantly: Does that cutie have a girlfriend?
I am very curious about my neighbors and I'm guessing you are too. I would like to introduce you to one of the people who make my list of 'über awesome Greenpointers.'
Alexandra Weiss is a native from Pennsylvania (Scranton, actually). She is a fashion designer and grew up with a true passion for drawing and creating. Her own designs are multifunctional tank shirts and dresses which are made of silk with a lace insert on the side. The shirts and dresses have both front and back pleats which are really flattering to any body type. The shoulder straps are adjustable-as they can be tied to any desirable height or style (across neck and waist). Really cute!  Continue reading →