The McGolrick Park Farmers Market Opens This Sunday! (5/6)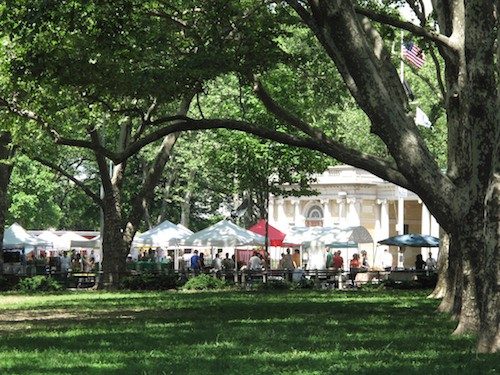 The Spring (and Summer) season has finally sprung and we are so excited the Farmers' Market will be back outside in McGolrick Park after its cozy hibernation inside the Park Church Co-Op (129 Russell Street) all Winter long. From 10am-4pm this Sunday May 6th, you can get your hands on all your favorite seasonal produce. Due to construction on the playground, the market will be held on the Monitor Street edge of the park. For the opening weekend about ten vendors will be selling lots of delicious veggies, fruit, herbs, and pantry staples, with more vendors joining the mix as we cruise into summer. There are a couple new vendors this year, including D&J Farm who will bring specialty Asian produce, Kouklet with Brazilian style pastries made in Flushing, and McGrath Cheese Company with cheeses made in the Hudson Valley. Support your local farmers and foodmakers and hit up the market!
The market has its own a Facebook page, where you can follow along to find out about special events, vendors and more info.