Old Electronics Laying Around? Recycle Your E-Waste This Saturday (10/21)!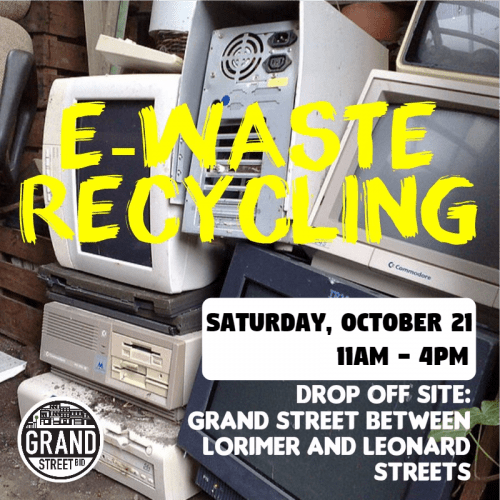 Come recycle your old and unused electronics with the Grand Street BID and Lower East Side Ecology Center on Saturday, October 21st from 11am-4pm (rain or shine). Drop off on the North side of Grand Street in front of Key Foods between Lorimer and Leonard Streets. Items accepted include: working and non-working computers, monitors, printers, scanners, keyboards, mice, cables, TV's, VCR's, DVD players, phones, audio/visual equipment, cellphones and PDA's.
If you can't make it on the 21st, Grand Street BID will also be collecting e-waste at their office, 246 Graham Ave, on Monday–Friday from 9AM-5PM.