Learn about the BQX Streetcar, Plus Free Drinks Thursday!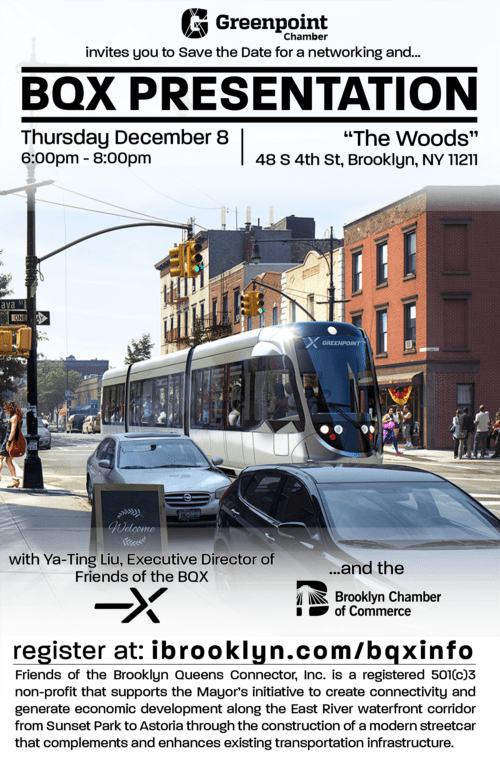 Get to The Woods (48 S. 4th Street) on Thursday, December 8th from 6-8pm for an evening of socializing and learning about the proposed BQX streetcar system. It's planned to run 16 miles along the Queens/Brooklyn waterfront and to be emissions-free, without overhead wires or underground power sources. If all goes as planned, groundbreaking would start in 2019-2020, and if it's going to look anything like their fancy Photoshopped renderings, it could be pretty cool.BQX trains are planned to run 24/7 at 5-minute intervals during peak service. The proposed system will link neighborhoods from Astoria to Sunset Park, and the cars would travel primarily in dedicated lanes, separated from traffic and bicycles along the route. The fare would be the same as standard bus and subway fares, and should be integrated with the MTA for fare payment and free transfers. Thursday night is your opportunity to come with questions and learn more about the project.
Your first drink will be free and light snacks will be served. RSVP here. The event is hosted by Friends of the BQX and the Brooklyn Chamber.