Featured Vendor: Birdy27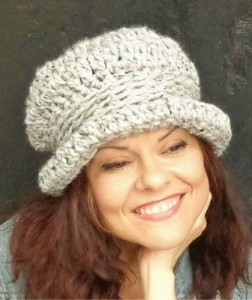 Have we mentioned that we love knits? We talked to Alicia of Birdy27 about her hand-made hats, scarves, and ear warmers for a little preview of what she'll bringing to the Holiday market tomorrow!
GP: What inspired you to start Birdy27?
Alicia: I am just one big ball of creativity!  When I started thinking about starting a business, I began creating slogans for t-shirts and that jibed with my writing background. However, when I was a young girl, my mom taught me to sew, knit, and crochet. So when I decided to expand my business beyond tees, I went back to my background and family traditions. When I offer handmade items, I feel as if I am honoring my mom and grandmother. And my mom is proud of me, too.
GP: What sets your creations apart from others?
I believe I have a pretty distinctive style. I tell prospective customers that everything I create is "chunky, funky, and fabulous"! I'm not a delicate person; I'm tall, strong, and not careful with things I own. I like to be able to fold my hat and stuff it in my bag.  Also, I get tactile satisfaction from feeling a soft, thick, cushy neck warmer. So I tend to create items that are stylish, substantial, fanciful, and easy-to-wear. I take traditional styles and give them a modern "Birdy27" twist.
Many of my styles are unisex. If you want to make a statement and be noticed, buy one of my big slouchy hats with huge flowers or one of my chunky 7′ plus scarves with long, thick fringe. You'll stand out from the crowd.
GP: Where do you get your creative ideas?
I'm inspired by pop culture, what people are wearing, cartoon images, traditional styles, film, music, and art. When I started selling knit and crochet fashion accessories, I started looking at all the hats, scarves, ear warmers, and cowls I saw. And I still do. I love to be inspired, but I love to give everything I do my own "Birdy27" flavor.
GP: Why the name?
Alicia: "27" is my birthdate. I am a longtime vegetarian/mostly vegan (I eat honey on occasion) and I started my business with the name "Vegbyrd 27." Well, anything with "veg" in it is very popular, so I decided I needed a new name. All of a sudden it became clear that "Birdy"–a nickname from a long time ago—was it. So Birdy27 Designs was born.
10. Do you make everything yourself?
Yes, I do everything: create the crochet and knit designs, design the postcards and hangtags, act as photographer and stylist, manage my social media presence, and more.
GP: Are you excited to participate in Greenpointers Market?
I live in Manhattan, but I love vending in Brooklyn! I used to vend at the now defunct DeKalb Market and that's where I found a true appreciation for my style. Since then, Brooklyn has welcomed me with open arms and I love that. Brooklyn rocks!
See more of Birdy27 on etsy, facebook, twitter, pinterest, & instagram.