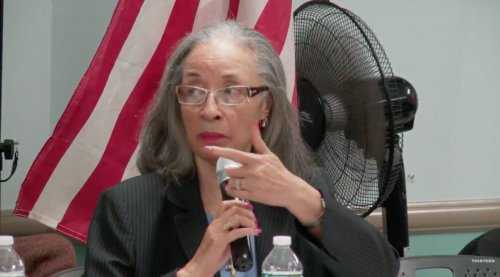 As we mentioned last month, the regular CB1 meetings are a great opportunity to support our local community (or at least know what the hell's going on around here) from the comfort of your own couch—so make some popcorn, throw back a few beers and throw on the livestream. Between committed neighborhood busy-bodies, awkward and often inane comments from the peanut gallery, and Dealice Fuller's formidable facial expressions, the CB1 meetings are thoroughly entertaining. You can watch last night's meeting (11/14) in full, here on YouTube. The agenda can be viewed as a PDF here. The next CB1 meeting will be held on December 5th at the Swingin' 60s Senior Center (211 Ainslie Street) at 6pm, and will also be livestreamed via Thirteen.
Here are the highlights:
Neighbors are concerned that the crowds from Painting Lounge (309 Roebling Street) could be a boon for "drug peddling and mayhem," and that perhaps applying for a liquor license is a clever way for the humble-seeming business to disguise its true motive of actually operating as a bar. Others brought up that there are already two liquor stores nearby, and, citing prohibition, questioned whether the community is being too harsh: "Is this 2017 or is this 1917?" And:"Am I in some lala land where this quiet little place where women come and paint is the thing that's gonna wreck a whole community?" A motion was passed to recommend denial on the lounge's application for a beer and wine license.
The question was brought up and not resolved… Should CB1 be recommending name changes to businesses with potentially offensive names? Xixa (241 S 4th St) is Yiddish for a non-Jewish woman, Traif (229 S 4th St) refers to non-Kosher food, and now there's Greenpoint newcomer Ramen Mafia (opening at 208 Franklin Street).
Category:
News
Tags:

bar method, Bushwick, CB1, community board, Cooper Park Houses, dealice fuller, development, Greenpoint, Manhattan Inn, news, painting lounge, ramen mafia, traif, Williamsburg, xixa
3 Comments