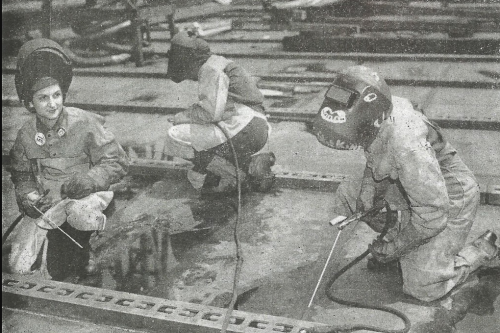 The iconic industries of North Brooklyn were staffed by females who were underpaid and often worked in dangerous conditions. It's high time we honor these anonymous, but heroic local workers. Some local industries preferred female workers.
Why? Well, there are a number of reasons, but more often than not factory owners could underpay female workers, especially immigrant women who often lacked the language skills and awareness to demand their fair wage and better conditions.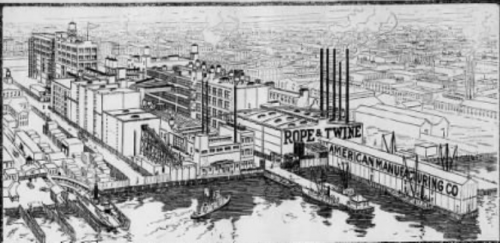 Some local female workers, however, were anything but docile. They fought for better wages and better conditions in strikes that often became violent. The American Manufacturing Company centered on West Street employed thousands of women, with many from Poland and Lithuanian. They were superior workers to men because the work making ropes required great manual dexterity and female hands outperformed men in making ropes.
The women worked long hours for poor pay, however, in 1910, the women organized a sit-down strike and engaged in a full-fledged street battle with the local police who tried to prevent them from taking over the sprawling factory. Polish women were also arrested when they violently confronted Italian immigrant workers hired to replace them. Later Puerto Rican women were brought from their native island to work in the plant, establishing a Puerto Rican presence in our area that lasts until today.
Another famous strike occurred at the Leviton plant on Greenpoint Avenue. Leviton manufactured pull-chain lamp holders for Thomas Edison's newly developed light bulb, and in 1922 the company moved to Greenpoint. The massive factory took up two city blocks between Newel and Jewel Streets and produced over 600 other electrical items, from fuses to socket covers to outlets and switches.

The Leviton plant employed numerous women doing piecework. When inspectors came they saw guards on the machinery that protected the workers' hands, but when the inspectors left the guards were removed because they slowed down assembly of the devices. Women at the plant lost fingers due to the lack of guards, which led to a demand for increased safety and union recognition in a long and bitter 1940 strike. The strikers were visited by First Lady Eleanor Roosevelt, the first time in American history the First Lady addressed striking workers. The women won the long bitter strike achieving better pay and safe conditions. Continue reading →
Category:

(Not)Forgotten Greenpoint, Culture, Historical Greenpoint
Tags:

Brooklyn, brooklyn history, brooklyn navy yard, Brooklyn New York, equal pay, Greenpoint, greenpoint brooklyn, NYC women's history, Williamsburg, williamsburg brooklyn, Women workers, women's history month, women's rights
1 Comment