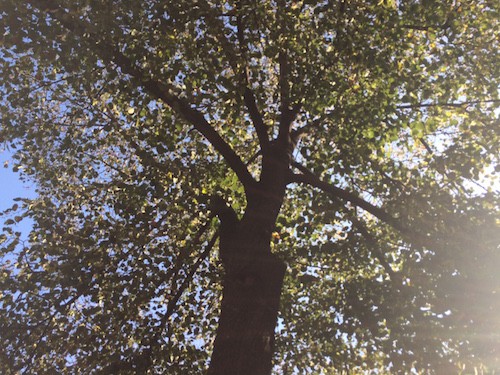 We might live in the concrete jungle, but according to this fantastic interactive tree map made by the New York City Parks department, Greenpoint is blessed with arboreal abundance. Our lovely neighborhood trees benefit from the care of volunteer environmental stewards, known as Citizen Pruners. 
Greenpointer Sarah Balistreri, the fabulous force behind the instagram account @wildgreenpoint, who helped conduct the tree census that informs the map, is a Citizen Pruner. After taking a tree identification course at the Brooklyn Brainery, which sparked a love of urban street trees, Sarah took the Trees New York Citizen Pruner course and became a licensed tree-hugger.
The Citizen Pruner course trains and certifies New Yorkers in "tree care, biology, identification and pruning." Sarah explains that all of these skills and areas of knowledge are intertwined when it comes to properly caring for New York's Trees, because knowing about a tree's species, and the specific challenges that species has with weather or growth, helps inform how you prune it.
Trees New York is the only organization in the city that trains and certifies Citizen Pruners, and only certified Citizen Pruners can legally prune street trees in New York. Trees New York certifies about 200 Citizen Pruners every year, but Greenpoint residents are particularly lucky. Anyone who lives in zip code 11222 is eligible for the Greening Greenpoint Scholarship, and can take the course for just $15, thanks to funding from the Greenpoint Community Environmental Fund! Continue reading →