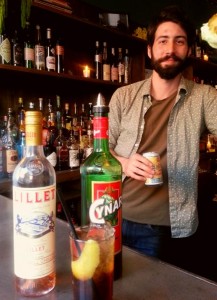 Wondering what will fill the space (more like a void) that was the former Veronica People's Club?
Broken Land (105 Franklin St) has come. And they are opening their doors tonight – Thursday, 6/6 at 9pm!
I sat down with bar manager, Ryan Wood and one of the owners, Julia Arnold, amidst the flurry of prepping for their opening party tonight.
GP:  What's the concept of  "Broken Land"?
BL:  We choose "Broken Land" because it was the original name the Dutch gave Brooklyn (Breukelen) and it was descriptive of the the area where Newtown Creek was: waving marshlands.  Those marshlands are now known as Greenpoint.  We wanted to create a bar "where we would want to be." Continue reading →