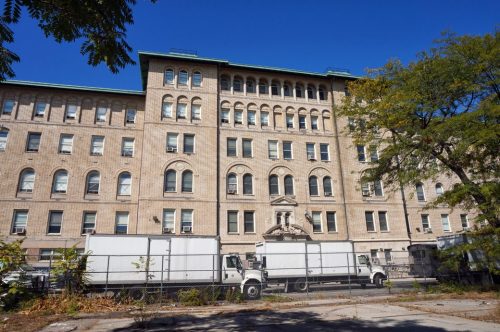 In a city critically short of both affordable housing and homeless shelters, the long-abandoned former Greenpoint hospital can help alleviate both severe shortages in North Brooklyn. Over a year ago, plans were finalized for the conversion of the site and soon the former hospital will serve the public in these critical areas. The Greenpoint Hospital served the community for 70 years and many locals were born in the hospital. Constructed of brick and limestone, the attractive main building includes elements of Romanesque Revival, Italianate and Neo-Classical architectural styles. After opening in 1914, the hospital closed in 1982 amidst much local anger.
In a plan that includes a new homeless shelter and affordable apartments for low-income residents, the Hudson Companies, St. Nicks Alliance, and Project Renewal were chosen by the city's Dept. of Housing Preservation and Development to redevelop the former Greenpoint Hospital site at 288 Jackson Street.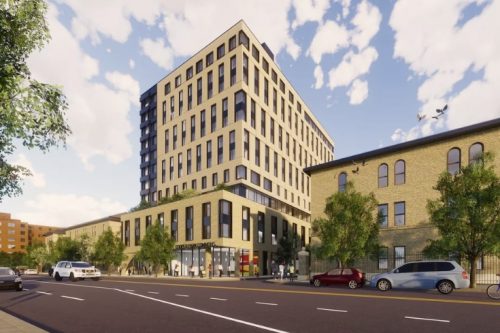 Magnusson Architecture and Planning and the firm Architecture Outfit will jointly develop 512 new units of affordable housing that will be housed in four separate buildings. The development will include an attractive campus with 21,500 square feet of communal space with a resident lounge, dining facilities, and a workforce development center. Completion of the project will involve two phases. In the first phase, the existing 200-bed shelter at the site will be moved to the southern portion of the development site in a rehabbed building. The first phase will also include construction of a new building with 267 apartments.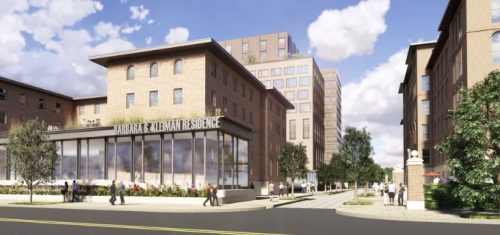 Phase two will redevelop the main hospital building, that will be converted to a senior home with 109 apartments. The building that houses the boiler will be demolished and a 136-unit apartment building is slated to replace it. 30 percent of the total apartments are reserved for the formerly homeless. Continue reading →