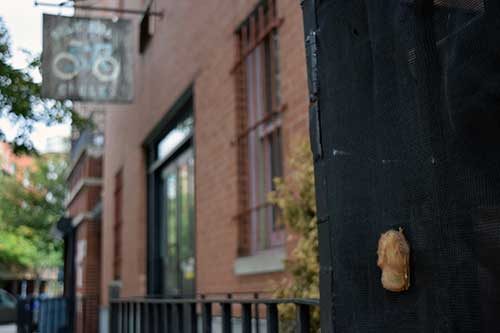 A bat has been posted up outside Silk Road Cycles (76 Franklin St.) all week. Someone at the shop reportedly contacted Animal Control 4 days ago and as of yesterday, the poor, apparently sick bat was still there.
Riverkeeper will be hosting a Newtown Creek Community Advisory Committee meeting on Thursday, Oct. 20. The EPA will be presenting an update.
A pro-Donald Trump art show was cancelled this week at a Williamsburg gallery.
No, Bill Murray has not announced any further bartending engagements, but his son's restaurant, 21 Greenpoint got some good press this week! Continue reading →
Category:

News, The Hook-Up
Tags:

21 greenpoint, art show, bat, EPA, giveaway, Greening Greenpoint, hook up, leonard library, Newtown Creek, Newtown Creek Alliance, riverkeeper, silk road cycles, trees, trump, trump zoltar
1 Comment