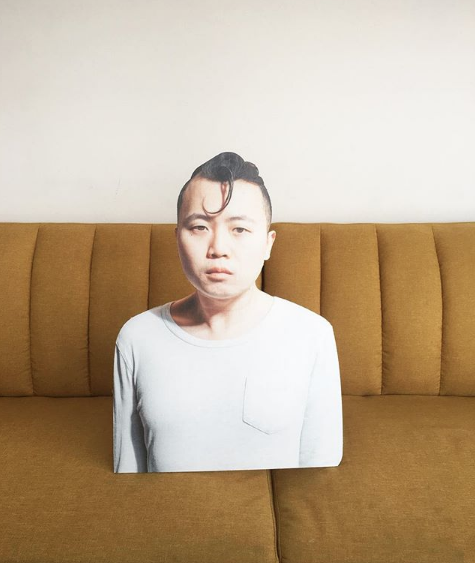 To complement last Thursday Spotlight's article on Meena Hasan, today, we speak wtih fellow artist Tommy Kha who, alongside Meena, is deconstructing identity through their joint show at LAUNCH F18 Gallery in Tribeca. Tommy, a Greenpointer of multiple years, is a photographer who elevates the mundane and finds touches of surreality and the bizarre in the quotidian (as evidenced from some samples sprinkled around his Instagram).
Greenpointers: You live in Greenpoint, I hear! What's it been like to work in a community so rich in visual artists?
It's odd, this is the beginning of my fourth year here and only now, I feel I can settle in and unpack my anxiety and work. I've lucked out to be near my schoolmates that my existential status feels less isolating. It's a sight to see spaces like DAAB, the Java Project, the Greenpoint Gallery, and my artist friends pushing up against stones and making work, in turn, I find myself pushing as well.
Your current show at LAUNCH F18 Gallery in Tribeca wrestles with the effects of imperialism. Can you discuss the pieces you contributed to this exhibition?
I wanted to go in the opposite direction as my previous iterations of my self-portrait work, being given the space to present work less about performed Otherness but being a product of colonialism. I'm more concerned with the direct experiences my mother and family members has had.
The portraits I've made of her from our long-form collaboration are alongside photographs she made back in 1984, the year she successfully fled Vietnam (Old Country), which is something g of a familial trait — my great-grandparents fled 1930s China (Older Country). I didn't know she made photographs at some point, it's striking for me to see them because
I view photography and art differently than my mother's generation, whose life's experiences were contingent on survival and non-conforming (my mother went through an indoctrination camp).
Additionally, I've included newsprints for people to take, on one side are Southern landscapes and interiors, on the other side is an illegible article recalling my aunt's murder, fading over the four images, which I never quite resolved her death. Continue reading →