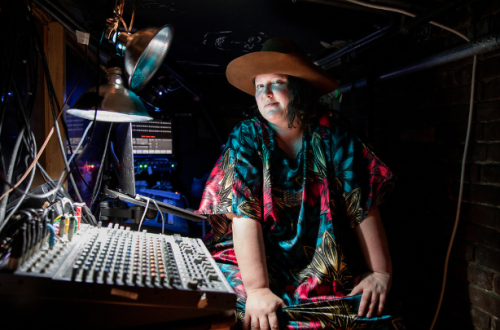 Theresa Buchheister
is a successful artist because she is a generous one; through multiple festivals and off-the-beaten-path venues, clandestine locales and dive hives, she has created myriad opportunities for creators of various stripes to express themselves and their craft. How fitting that she should rise to be The Brick's new Artistic Director.
The Brick
(579 Metropolitan Avenue) has long been a haven for comediennes, interpreters of classics, and everything in between. Now, Theresa — founder of the lauded and Brooklyn-based
Exponential Festival
— takes her vast producorial and artistic know-how to Williamsburg's vital and ever-evolving destination for cutting-edge theatrical experience. Get to know this indefatigable artist in this week's Thursday Spotlight!
Greenpointers: We cover artists in Greenpoint, Bushwick, and Williamsburg — but it's certainly not uncommon for folks to move in and out of the boroughs. If memory serves, you've moved around quite a bit during your time in New York, but so much of your work has touched these neighborhoods, right?
Theresa Buchheister: Indeed. The first shows I did in the early 2000s were more in the East Village and LES, as that is where weird and wild stuff was still happening. But, as that started to really really change around 2008, I found myself more and more in Brooklyn doing shows in the backs of CC Rentals (as part of the Night Market), on boats on the Gowanus Canal (with Jeff Stark), and in DIY music venues (RIP Silent Barn, Secret Project Robot, Shea Stadium, soon The Glove), as well as lovely theatrical spaces, like The Brick.
Title:Point
was a part of Silent Barn for almost four years, and that was the first home we ever had. It really taught us a lot about what is possible when you have even a little patch of land to build on.
Vital Joint
is in East Williamsburg and we started doing things there almost three years ago, which has also been a great home base, especially being on the same block as Panoply Performance Lab, now called Parallel.  There is a vibrance that comes from relentlessly working with artists of all practices and learning from them and also struggling to make things work  — I have dealt with more dead rats and sewage and toilets than I ever predicted I would.
I love Brooklyn. It is my home. It is where amazing people live and venues come and go. But we all still keep finding ways.