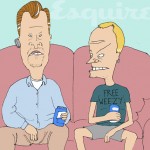 According to the pundits, primaries this Tuesday could seal the deal for both Clinton and Trump. That is a great thing for this country, at least during the campaign season.
Imagine being trapped with Cab TV ads from Cruz and Rubio (meaning: "brokered" candidate Ryan) during your entire failed-second-date ride over the Williamsburg.
With Bernie we would at least get some bounce music rallies in New Orleans, but his projected delegate count is not great, so he might not be around much longer.
Now at least we'll have in-your-face punk diva Trump. And Clinton's got a thing for smooth-jazz bad boys. Granted, after the election, reality might set in. In the meantime, the political ads should be more entertaining than usual. Here's my local club-hopping campaign trail for this weekend. Continue reading →
Category:
Art/Music
Tags:

Alternateen, Baby's All Right, Blunt Prophet, Brooklyn Bowl, Cannabis Corpse, Downtown Boys, Grand Vic, Karen O, knitting factory, Live Girls!!, local music, Music, Nighthawk CInema, Skinny Dennis, Snafu, Soul Rebels, st.vitus, The Gentleman Callers, The Jacked Bennies, Weekend Music Picks
0 Comments