OK. Tomorrow is the inauguration. We have all kinds of feels. And if this past election has showed us anything, it's that we can and will strategically come together to support, defend, edify, forgive one another, and even laugh out loud in the midst of heartbreaking confusion.
Brooklyn comedians Emily Winter and Jenn Welch are doing just that with What A Joke – a national comedy festival which spans across 34 US cities, includes 86 shows, and gives all the ticket sales proceeds to the American Civil Liberties Union.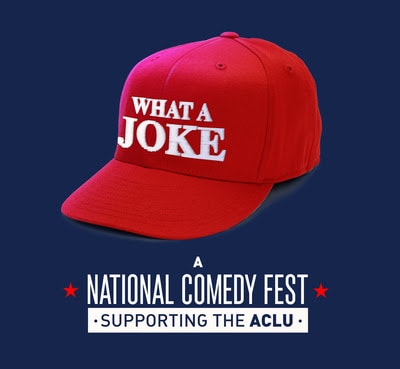 The NYC shows are happening right down the street at the Annoyance Theatre (367 Bedford Ave.) and Rough Trade (64 N. 9th St.) on Friday and Saturday. And the festival kicks off in Manhattan tonight at The Stand, and includes a happy hour and silent auction. The lineups are full of a number of headliners like Nikki Glaser, Dave Hill, and 'Comedy Central's Comics to Watch' sketch team, the Astronomy Club, among a whole lot more. (Side note: Rough Trade is having another benefit for the ACLU and Planned Parenthood tonight with a nice little music lineup).
We got the chance to ask Emily Winter (co-founder), a few questions about the festival and discuss why good comedy is no joke. Continue reading →