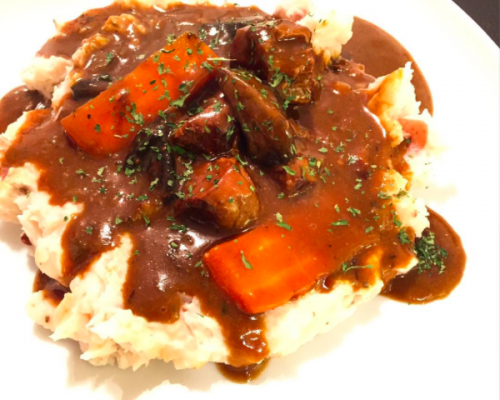 My mother is born-and-raised solid country stock from County Westmeath, Ireland. She remembers St. Patrick's Day celebrations as chiefly religious, with the country going to mass with freshly-picked clovers pinned to buttonholes to honor their patron saint. Then there would be a shared family meal with special-occasion ingredients like beef or lamb, usually presented in roasts or stews.
Regardless of how you choose to celebrate St. Patrick's Day (or whether you want to avoid all related shenanigans entirely), this traditional Irish dish is straight-forward, nourishing, rich, and perfect for spooning out among any group of friends and family (though with all due respect to my grandmother and her preferred method of just dumping everything in a big pot and leaving it, I've added and tweaked some steps to improve texture and flavor).
Recipe after the jump!
Category:

Eat & Drink, Recipes
Tags:

beef, beer, claire phelan, Cooking with Claire, CSA, dinner, family meal, Guinness, holiday, instagram, irish, Key Food, meat, recipe, seasonal, soup, special occasion, st. patrick's day, stew, Stout, traditional, winter
0 Comments