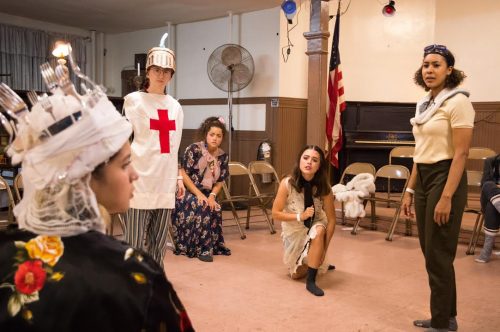 "The chair recognizes Joan of Arc."
It's hard not to recognize her, in the theatrical sense — like the Joans we've seen, this one's armor-clad, cross-bearing, and all-powerful. But is this Joan? Well, of course not; it's merely a depiction.
But is the performer (a marvelously focused Bre Northrup) playing Joan, or a character who believes they are Joan? This is one of the central questions in Arthur Kopit's Chamber Music, now playing through September 16 in the basement of St. John's Lutheran Church (155 Milton Street).
Director Emily Moler makes dynamic use of her staging Kopit's absurdist play, setting it in the round and utilizing the subterranean locale's low-budget though ample space. In fact a church basement may be the unlikely, appropriate setting for Chamber Music: the play actually takes place in a mental institution, so a church (with its rigid mores) lends itself winningly to this story's strict asylum. The "Joan of Arc" and other lady icons, from Osa Johnson to Pearl White, inhabit this jail, and their meeting of the minds feels echoed in the opening of Top Girls, Caryl Churchill's feminist anthem. Continue reading →