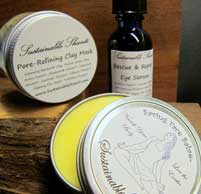 Emily Trower-Young knows skin. She founded Sustainable Shanti as an experiment, giving samples of her personal daily face moisturizer to her family and friends, who kept asking for more. It has since become a full-fledged business.
As a person with super sensitive skin, I know first-hand how important it is to actually be able to understand the ingredients on product labels, when most creams sold in drug stores are made with artificial colors, preservatives, and chemicals. All of Emily's products are completely (like, actually) organic so if you're worried about animal testing and environmental impact, look no further.
She describes her face salves as a "face game changer." It's made with raw coconut oil, sweet almond oil, tea tree, and lavender…so if that's any indication, we can guess that it smells heavenly to boot.
We sat down with Emily to get the inside scoop.