Make Your Own Miso, March 15th @ Anima Mundi Apothecary (35 Noble Street) from 7pm-9pm Register here.
Covering the basic science behind making miso; both soy & non soy miso will be included.
Amazonian Plant Medicine, March 20th @ Anima Mundi Apothecary from 7pm-9pm Register here.
Taste healing Amazonian plant preparations, inhale the scent of traditional smudges & listen to icaros, traditional healing songs.
[Sponsored Content Above]
WEDNESDAY 3/14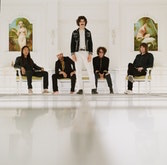 # Global Tea Hut monthly gathering @ Puerh Brooklyn Tea Shop (174 Grand Street), 6pm, $5 suggested, Join our tea community for a relaxed gathering over tea. Open to all., More info
♦ The Simpsons Bingo @ Videology (308 Bedford Avenue), 6:45pm, FREE, It's time for The Simpsons bingo! What better way to celebrate the longest running TV comedy of all time than with a good old ding-dong-diddily game of BINGO? Every Wednesday night we'll be watching The Simpsons and playing BINGO. Watch for things like Duff beer, celebrity cameos, and the Itchy and Scratchy show. Listen for quotes like "D'oh!" "Eat my shorts!" and "Excellent…" Get a BINGO and you'll win a free drink (or doughnut that makes you go "Mmmm")! More info
♫ Crowbar Artificial Brain Extinction A.D Kings Destroy Sunro @Brooklyn Bazzar (150 Greenpoint Avenue), 8pm, $14, Buy Tix
♫ Easy @Union Pool (848 Union Avenue), 8pm, $10-12, More info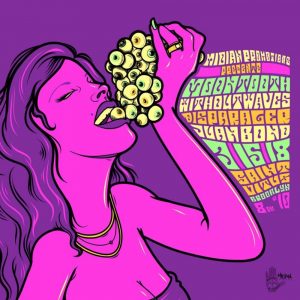 THURSDAY 3/15
* Juggling Taxes for Freelancers @ The Muse (350 Moffat St.), 5:00pm, FREE, Are you self-employed? Do you receive 1099s? Do you file a Schedule C? Then this class is for you – Brooklyn Coop wants to help you SAVE on your taxes! RSVP
*# Edible Landscaping with Hortus Conclusus @ Lonard Library (81 Devoe St.), 6:30pm, FREE, With spring just around the corner, this edition of the Green Series features members from Hortus Conclusus, a Level II Arboretum, who teach us how to landscape our backyard garden using a rich diversity of edible fruiting plants from around the world, including the under-appreciated wild fruit from New York State's native forest. RSVP
♫ Moon Tooth/Without Waves/Disparager/Juan Bond @ St. Vitus (1120 Manhattan Ave.), 7:00 pm, $10, Buy tix
♦ What is the Model City? @ UnionDocs (322 Union Avenue), 7:30pm, $10, Join architect and historian Susanne Schindler as she explains the origins, trajectory and legacies of the Great Society program launched in 1966, Buy tix
♫ Playing with Shadows: Drink and Draw @ Naive (299 South 4th Street), 8:30pm, $15, Joing us for a glass of wine, our relaxed, social vibe and two sessions with a semi-clothed model are all included in the price of the ticket. There won't be an instructor, but a professional artist will be on hand to answer any questions you might have. You should bring your own supplies, but we will have pencils, printer paper and crayons on hand if you forget, More info
Continue reading →
Category:
What's Happening?
Tags:

black flamingo, brooklyn bazaar, Brooklyn Expo Center, Catland, drink-and-draw, edible landscaping, egg, elsewhere, events, freelancers, Greenpoint, greenpointers, knitting factory, leonard library, Mac & Cheese Smackdown, Muchmore's, nag, naive, new women space, Root Mama, Rose Gold, schimanski, Simpsons, Soul Clap, space 98, Spectacle Theatre, st.vitus, tarot, taxes, tea, the muse, the wonders of nature, Union Docs, union pool, urban planning, Videology, Yoga
0 Comments