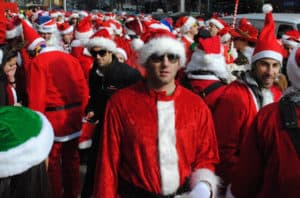 You know that famous bar crawl where you dress up like Santa and get completely wasted with a huge crowd of young hotties?
Aren't you pissed that they got kicked out of Williamsburg?
Party promotion team Twitchy Fingers is bringing the action back, this Saturday only. They've got 64 participating venues, all in Greenpoint this time.

That's right, it's Greenpoint's First Annual Tipsy Mistletoe!
For just a $30 wristband you get, get this, unlimited 25 cent 190-proof grain alcohol shooters from 10 in the morning to 3 AM at night, plus a souvenir cup good for 1 dollar Buds everywhere.
They've already sold 90% of their 10,000 wristband allotment, but here's how to unlock access to the remaining treasure.
Just Twitter them your sexiest photo and they will choose the most titillating people to bring into the magic.
Full details inside.