If you want to erase all memories of 2016 via booze, hardcore dancing and from anywhere but your couch, here's our list of where to party in North Brooklyn this New Years Eve. From prix fixe dinners to house music legends to open bars, to champagne toasts to confetti explosions and confessionals, we've got you covered. Some of these events are sold out already with waiting lists, but most of them aren't… Yet. Assemble your crew!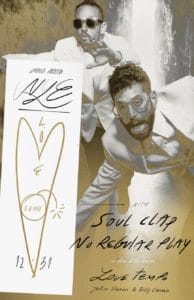 Good Room | 98 Meserole Ave.
NYE Love Bombs, with dj's Soul Clap, No Regular Play & Love Tempo; champagne toast at midnight and an open bar from 12-1am, balloon drop, confetti cannons and a breakfast buffet! 9pm-6am.
Tickets $65 available here, more info on Facebook.
St. Vitus | 1120 Manhattan Ave.
Slowly sway to post-punk emo rockers Rainer Maria, with openers Snail Mail, 8pm.
$25 tickets here.
Black Flamingo | 168 Borniquen Place
A Good Flocking Time: DJs and dancing from 9pm-4am, Jacques Renault, Midnight Magic, Beto Cravioto, Higgins.
Tickets $15-20 here, info here.
Brooklyn Winery | 213 N 8th Street
Brooklyn Winery presents an Alice In Wonderland themed party titled World of Wonder. From 9pm-1:30am, ring in 2017 in the forest of whimsy! Don your most fantastical cocktail attire and raise a glass to the end of another great year with a four and a half hour open bar, lavish antipasti spreads, and passed hors d'oeuvres. The space will be transformed into a fantastical world where reality is altered and nothing is quite as it seems. Dance the night away in a mystical forest, find surprises in every room, and capture it all in a one-of-a-kind custom photo booth!
Tickets $150, here.
Brooklyn Bazaar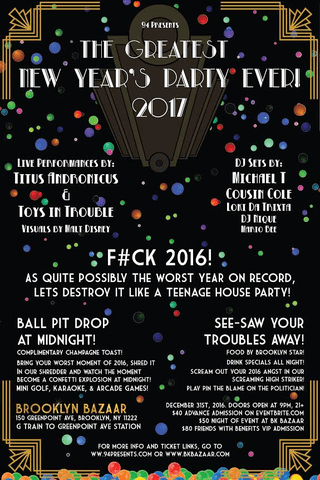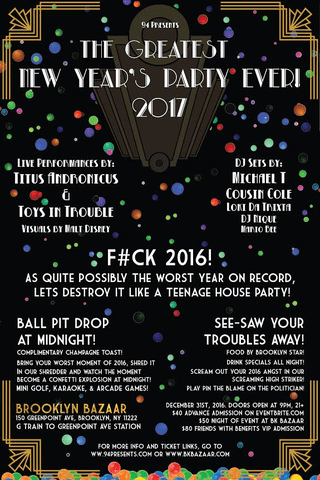 | 150 Greenpoint Avenue
From 9pm-4am Brooklyn Bazaar is hosting The Greatest New Year's Party Ever 2017, aka F#CK 2016! As quite possibly the worst year on record, let's destroy it like a teenage house party! Titus Andronicus, High Waisted, & Toys in Trouble will be performing live, with DJs Michael T, Dirtyfinger, Cousin Cole and more to fill out the rest of the night. Complimentary Midnight Champagne Toast with their own Ballpit Drop! Bring your worst moment of 2016 on a piece of paper, shred it in the shredder and watch your worst moment become a confetti explosion at Midnight. See-saw your troubles away, scream out your 2016 angst in our screaming high striker and play Pin the Blame on the Politician! Lose yourself in our ball pit and come dance in 3 floors of possibility and installations so you can forget 2016 and start 2017 off right.
Tickets $40-$80, info here Continue reading →
Category:

Art/Music, Eat & Drink, Events
Tags:

Baby's All Right, battery harris, black flamingo, brooklyn bazaar, Brooklyn Bowl, Brooklyn Brewery, Brooklyn Winery, cherry point, Diner, Esme, Glasserie, good room, greenpoint beer and ale, House of Yes, huckleberry bar, Kinfolk, knitting factory, Le fanfare, Le Gamin, marlow & sons, milk and roses, Music Hall of Williamsburg, new year's, new years 2017, new years eve 2017, night of joy, Output, pete's candy store, Reynard, roebling tea room, Rough Trade, San Damiano Mission, schimanski, st.vitus, Sunnyvale, The Diamond, the lot radio, union pool, Videology, Villain
0 Comments