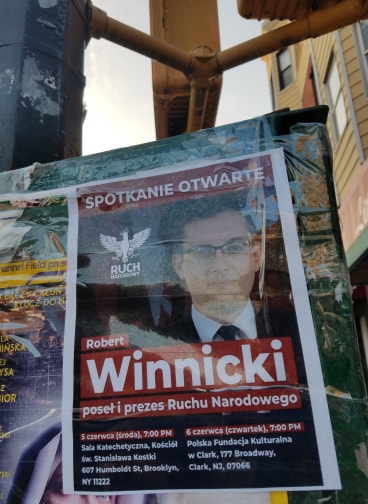 The following is an account from a Polish American Greenpointer who grew up in the neighborhood and whose parents are from Poland.
Where to begin about Robert Winnicki and his first trip ever to New York City?
How can I write anything positive about an obscure player in Polish politics who decided that his main role in life will be to repeat empty nationalist slogans?
As a Polish-American I think:
How do we out Winnicki as the worst type of opportunist? How do Polish Americans stop feeling angry that while he's excited to turn his vacation into a mini-PR stunt for his own political gains that he's also causing real harm to the Polish community here in NYC and Chicago (his next stop)? Does he realize that he's an embarrassment to everyone living here?
When did Winnicki become interested in the American Polonia, and what has he done for us?
Is he here to endow a scholarship for an outstanding first-generation student who can't afford to go to a private college? Is Winnicki here working with the retired Polish pensioners? Is he handing out food to the Polish homeless and visiting them in the Brooklyn shelters? Is Winnicki talking to Polish business leaders about how to fund Polish tech? Is he standing up for Polish people in court or paying for their lawyers? Is he supporting the Polish artists working in theater, fine art, design, and fashion? Did he launch an innovative project to promote Polish culture in the region? Is Winnicki curious at all who are the people working with the Polish community and has he met with them? Did he even at least visit the Polish Slavic Center?
Beyond staging a rally for — let's be honest — himself, is Winnicki taking the time to do anything else here beyond posting videos from Central Park to his social media feeds? Is he really this self-absorbed and arrogant?
Did Winnicki just want to walk around New York City for the first time and wonder at the skyscrapers? Otherwise, what does he hope to achieve from this trip? Is there an election coming up and Winnicki is this hard up for votes back home? Does he realize that hundreds of thousands of Polish-Americans live in the Tri-state area and only around 100 showed up for his rally? Does that give him a clue as to how we feel about his platform?