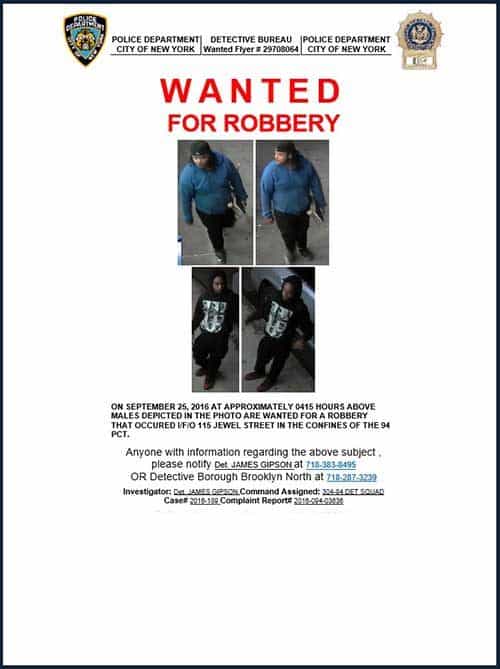 Greenpoint has recently had a wave of robberies and a burglary that have disturbed neighborhood residents. Early in the morning on Sunday, Sept. 25, four separate robberies occurred within 90 minutes of each other.
The first robbery took place around 3:15am at the corner of Jackson Street and Meeker Avenue when four men approached a 26 year-old victim, attacked him, and took his backpack, iPhone, camera, and books.
The second incident took place around 4am at Jewel Street and Meserole Avenue when a 34-year old man was attacked by three men and robbed of his iPhone, $300 in cash, and wallet. The victim was struck in the face during the robbery and required stitches to close a laceration he received.
The third incident occurred shortly after at 4:30am at Leonard Street and Driggs Avenue when two men robbed a 33-year old man at knifepoint of his iPhone and credit cards. This victim was unharmed.
The final robbery took place at Meserole Avenue and Diamond Street and involved two men attacking a 32-year old man and stealing his phone and wallet.
Police have strong video and photo evidence in the robberies and are looking for a group of four men in connection with all of the incidents.