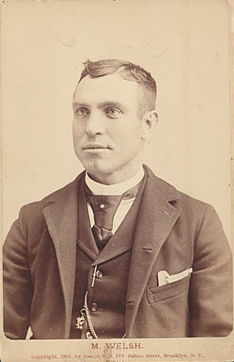 Tens of thousands of men have played professional baseball, but only a few have been enshrined in the Hall of Fame in Cooperstown. One of those rare individuals is pitcher Mickey Welsh (July 4, 1859 – July 30, 1941) who was born and raised in Williamsburg.
Only about two-dozen pitchers have won more than 300 games in their careers and Mickey Welsh was the third-ever pitcher to join that elite club. Welch played 13 seasons in the major leagues, three with the Troy Trojans, and 10 with the New York Gothams/Giants. He was very successful with an effective curveball, a change of pace, and a version of the screwball. During his 13 major league seasons, he posted 20 or more wins nine times, seven in succession.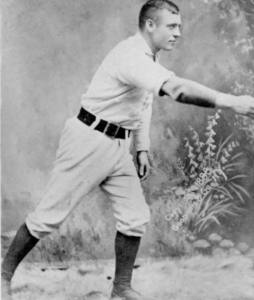 Welch's real name was Walsh. Mickey was the son of Irish immigrants who settled in Williamsburg. When Welch was young baseball was the rage in Brooklyn. Welsh in all likelihood saw the great local amateur team, the Eckford Club, which twice won the national baseball title before professional teams came to dominate the sport and the Eckford club folded in 1872. The first fully enclosed baseball grounds was also located in Williamsburg, The Union Grounds and it is more than likely Welch watched games there as a child.
Welsh was no physical giant. He stood only five feet eight inches tall and was no power pitcher. He threw underhand and had his success because he was a student of the game who mastered batters strengths and weaknesses and pitched smartly. Welch said, "I was a little fellow and I had to learn to use my head. I studied the hitters and knew how to pitch to all of them and I worked hard to perfect my control. I had a pretty good fastball, but I depended on my change of pace and an assortment of curveballs."