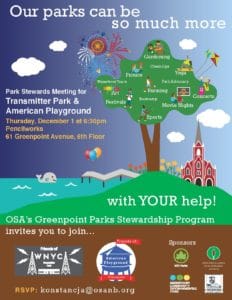 Transmitter Park and American Playground neighbors! Join Open Space Alliance for North Brooklyn's Greenpoint Parks Stewardship Program this Thursday, 12/1 at 6:30 pm at Pencil Works (61 Greenpoint Ave) to plan for 2017 in the parks (wellness, arts, kids and volunteer programs etc.) and map out our next steps in advocacy and fundraising for capital and other improvements. We will have food, drinks, and childcare. Email [email protected] to RSVP [sponsored]
There are more events in our weekly calendar! Submit Greenpoint events, too!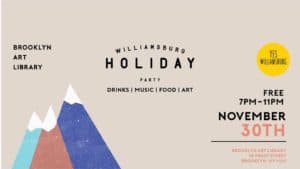 WEDNESDAY 11/30
♦  Williamsburg Holiday Party @ Brooklyn Art Library (28 Frost St) 7pm, FREE, Meet other locals and get free stuff from local businesses, More Info
* Toasted Wedding Event @ Dobbin St (64 Dobbin St) 6pm, $12, Curated mix of 40+ independent wedding vendors, alternative and modern wedding ideas, handcrafted and eco-friendly goods and a party-like mood. Music, food, goodie bags, raffles, photo booth pix, Buy tix
☺  Trump University Alumni Ball @ Adelina's (159 Greenpoint Ave) 10pm, $5, Since leaving from our tremendous, really fantastic alma mater Trump U, we've come to realize how important it is to give back. Raising funds for Planned Parenthood and the International Refugee Assistance Project. Comedy show Catch A Writhing Star returns, RSVP Continue reading →
Category:

Sponsored, What's Happening?
Tags:

adelina's, American Field Pop Up Market, booklyn, Brooklyn Art Library, brooklyn expo, brooklyn kitchen, Bushwick Inlet Park, clay space, dobbin st, Eastern District, holiday lights, Holiday Party, Kinfolk, Lighting Ceremony, lot radio, Mission church, MOFAD, Muchmore's, national sawdust, nitehawk cinema, Open Space Alliance, Pencilworks, Phoenicia Flea, Popular Mechanics, Sebastian Bach, Skid Row, Stagg Jam, The Mission, Triskelion Arts, Videology, Word, Yes Williamsburg
0 Comments