This article made possible by a donation to our Writer's Fund Raffle by In God We Trust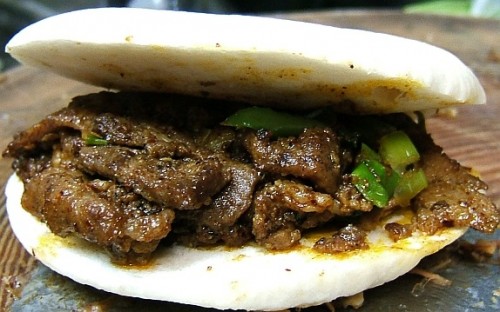 I'd just like to get this right out of the way and say that black magic works. I've dabbled in the dark arts and after all of the proper blood rites have been performed and incantations memorized, I've gotten exactly what I wanted.
Xi'an Famous Foods has opened a location closer to me than their East Village spot. Their new location in Greenpoint (86 Beadel St) is a ten minute walk from my house, and I'd personally like to thank the Dark Lord Clothos for making this possible.
For those of you not familiar with Xi'an in all its spicy glory, allow us to show you the way. Originally from Flushing, with two outposts in Manhattan, Xi'an Famous Foods has consistently been credited with helping the resurgence of traditional Chinese food here in New York. Specializing in traditional Western Chinese cuisine, Xi'an represents conventional Americanized Chinese food in much the same way the croissanwich represents French food. A very different beast indeed.
Category:

Eat & Drink, Reviews
Tags:

Beadel Street, Best Margarita, black magic, Brooklyn, Burger, Chinese Food, Cumin, Dark Lord Clothos, Food, Greenpoint, Hanuman Welch, In God We Trust, Lamb, Liang Pi, new, noodles, Pao Mo Soup, Pork, savory, spices, spicy, Stewed, take-out, Western Chinese, writer's fund, Xi'an, Xi'an Famous Foods
3 Comments