There are more events in our weekly calendar. Submit Greenpoint events, too!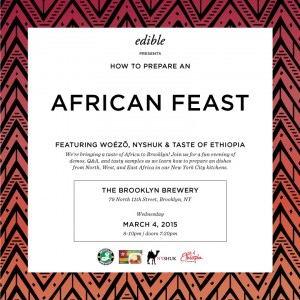 WEDNESDAY 3/04
* Growing Cities Screening & Fundraiser @ Lutheran Church of the Messiah (129 Russell St) 6pm, $10, The documentary screening will be followed by a panel discussion with NYC urban farmers, More info
♫ A Program of Hip Hop Related Musical Shorts @ Wythe Hotel (80 Wythe Ave) 6:30pm, $15, Charlie Ahearn (director of Wildstyle) presents a curated series of short films, More info
# Edible Presents How to Prepare an African Feast @ The Brooklyn Brewery (79 North 11th St) 8pm, $5, Featuring Woézö, NYShuk, and Taste of Ethiopia doing demos and Q&As, plus plenty of tasty samples, More info
Category:

Events, What's Happening?
Tags:

annoyance theatre, beat nite, Catland, city reliquary, Cloud City, edible brooklyn, Gottscheer Hall, groupmuse, Kickstarter, Norte Maar, ovenly, over the eight, rip diy, side ponytail comedy, superiority burger, the boiler, the brooklyn kitchen, the hive, The Wick, thundergumbo, Vegan Shop-Up, Villain, Word, wythe hotel
0 Comments