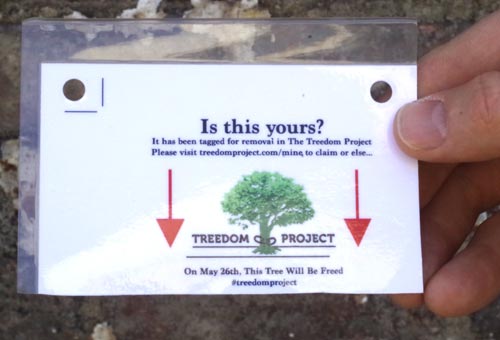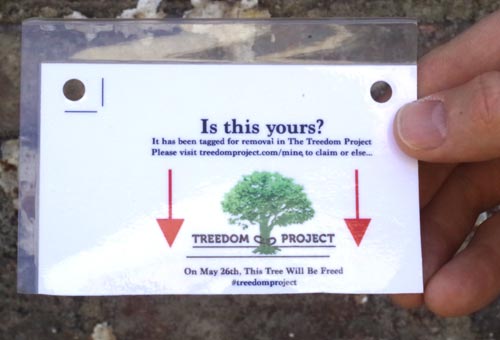 As if we need another reason to complain about reckless bicyclists on the streets of Brooklyn – not only do they put their own lives at risk in order to make the city a less polluted and traffic congested place, but they kill trees!
Not by crashing into them – this is a slower more painful death. Apparently trees, those things with green leaves, are mistaken for bike racks. And blame it on forgetfulness or rust or stolen parts, whatever the reason, many bikes are abandoned attached to trees.
As the trees continues to grow they literally get choked by the chains that becomes tighter and tighter around the trunks, a fatal process called girdling.
One Brooklyn man is sick and tired of seeing these soon to be suffocated trees and began the Treedom Project to save them. He needs your help!
If you see an old rusty clunker chained to a tree, report it. On Sunday May 26th, Rob and his team of DIY tree heros will be cutting the locks off reported bikes.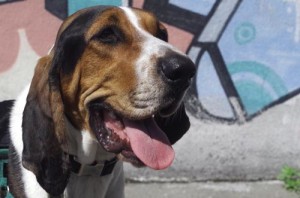 I met up with tree vigilante Rob Birdsong and his big hound dog Bo on the corner of Moultre St and Norman Ave in Greenpoint to take a look at a reported tree. A rusty bike with flattened tires, unrideable after a rough winter, was left chained to the tree. It's clear this cyclist doesn't care about his bike – or the tree. And right around the corner we found another tree choking bike.
You've been warned! Continue reading →