On June 3 & 4th, 400 local artists will open their doors to the public and showcase works and works in progress during this year's Greenpoint Open Studios! Check out the the full schedule of events here!
There are more events in our weekly calendar! Submit Greenpoint events, too!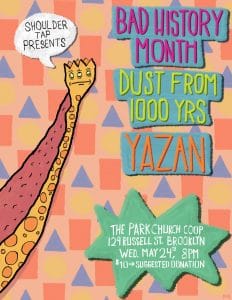 WEDNESDAY 5/24

* Fight the Feed @ Legion Bar (790 Metropolitan Ave) 8pm, $10, How do you really affect change? Does marching in the street actually reach the offices of power, or do you need to get a meeting in those offices before they'll really listen. We break down the protest memes, and get to what really makes a difference, Buy tix
♫ Bad History Month, Dust from 1000 Yrs, Yazan @ Park Church Co-Op (129 Russell St) 8pm, An intimate show of solo performances, More info
♫ Deep Space Brooklyn @ Output (74 Wythe Ave) 10pm, $10, Known as an adventure into future dub, spacey vibes, and abstract grooves, Deep Space features dj's, musicians, dancers and poets who represent a breathtaking range of styles celebrating dub's impact on so many forms of art, Buy tix Continue reading →
Category:
What's Happening?
Tags:

Archestratus Books and Food, bar matchl, bar matchless, black flamingo, brooklyn bazaar, Brooklyn Bowl, dobbin st, flux factory, gamba forest, good room, gos2017, Greenpoint Open Studios, Le fanfare, legion bar, Muchmore's, music for the masses, Music Hall of Williamsburg, Narayana Integrative Center, new women space, Output, Park Church Co-Op, punk rock yoga, Saint Vitus, saint vitus bar, San Damiano Mission, schimanski, Summer Thunder, Sundown Sessions, The Good Room, the hollows, the hollows filmhouse, time's up, union pool, UnionDocs, Videology, Warsaw, warsaw concerts, what's happening, william vale, William Vale Hotel
0 Comments