(Courtesy of Smithsonian Institution Archives)
These last bone-chilling, frigid days have been hard to bear, but these freezing days have reminded me of the horrible cold the Continental Army endured during the darkest moments of the revolution and of a unique local statue that captures Washington's suffering during that freezing winter. Situated in Continental Army Plaza, right near Roebling Street's entrance to the Williamsburg Bridge, the Equestrian Statue of George Washington at Valley Forge is decidedly the most impressive piece of public sculpture in North Brooklyn. Perhaps the only thing that can rival the awe the statue inspires is the incredible story of how an honest politician (that rare breed indeed) gifted it to the city.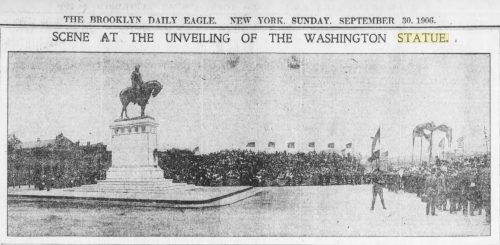 The statue was dedicated in 1906, and presented to the City by local Congressman James R. Howe and the Committee of Supervision and Construction. It was sculpted by Henry Mervin Shrady, a New Yorker and Columbia University graduate, who was commissioned to make his first major public work after winning a design competition in 1901. The huge statue was cast at Roman Bronze Works on Green Street in our area and is anchored to a granite base designed by Lord and Hewlett.