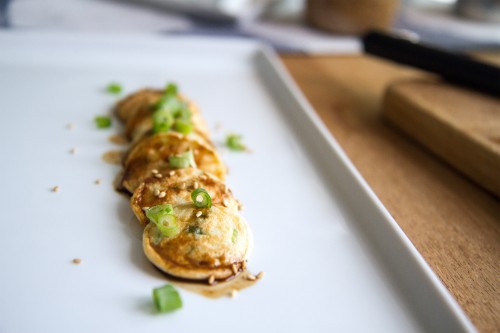 Combine one graphic designer and one marketing mastermind. Add a hot griddle and a bunch of fresh ingredients. Shake it all together with diverse flavor profiles and an appreciation for both sweet and savory. Stick it on a toothpick and serve at your local food market–you've got Poffees, a new mini pancake pop-up created by Greenpoint couple Dan Dalzotto and Lindsay Liu.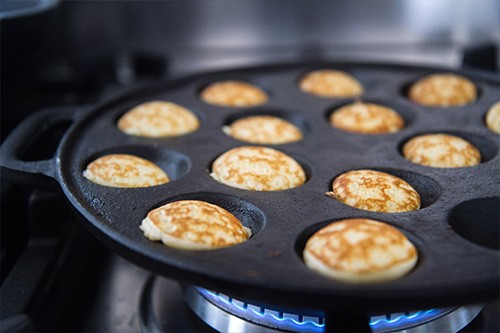 Poffertjes, originally a Dutch treat served at markets or festivals, are made in batches on a large cast iron griddle with small indentations, creating a spongy miniature pancake traditionally served with powdered sugar. Dalzotto, who grew up in Melbourne Australia, grew up on the treat and shared it with his girlfriend Liu, who has been a dedicated foodie when not working her day job in marketing. "It's like a mini pancake but with more burn bits and smothered in butter," says Dalzotto. The duo wanted to bring some variety to the delicious little puffs and make them as diverse as their backgrounds. From maple bacon to banana Nutella to parmesan pesto to scallion pancake with ponzu sauce, these bite size snacks hit both sugar and salt cravings and are the perfect snack while roaming food fairs like the Queens Night Market or Hester Street Fair, where Poffees will be sold regularly this summer.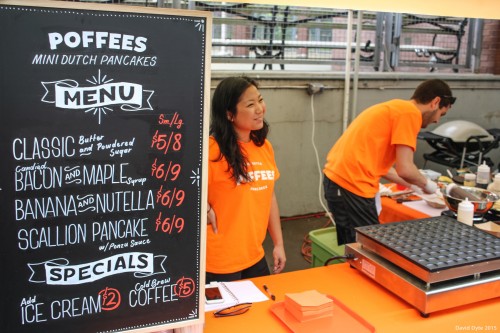 All images © Poffees
Greenpointers caught up with Liu and Dalzotto during their official launch this week about their new business run out out of their Greenpoint apartment, their hopes for even more taste profiles from around the world, and how these mini pancakes brought them together as a couple.