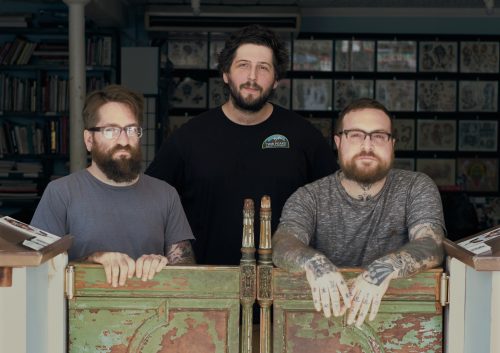 John Reardon opened Greenpoint Tattoo Company on Meserole Street in 2011. With almost two decades of experience working in the US and around the world, Reardon has a lot of stories to go along with it. This is why on a sweltering Saturday morning before they open for the day, I sit down in the very New York shop—pressed tin ceilings, wooden floors, tattoo art-lined walls and a bookshelf full of design inspiration from Gray's Anatomy to Japanese symbolism—to chat with Reardon, fellow Greenpoint Tattoo Co. artist Matt Bivetto and GPT client, writer and director Dan Bowhers, about their new observational workplace comedy web series, Ink Inc., which is premiering in mid-November.
Greenpointers: When did Greenpoint Tattoo Company open and where were you before GPT?
John Reardon: I opened it in 2011. I had had a private studio on North 7th Street and before that I worked at Saved [426 Union Ave]. I'd also opened a shop with my ex-wife in Copenhagen and I'd worked at other places around New York City.
GP: How did you get into tattooing originally?
JR: In 1996, it was still illegal in Massachusetts. I was going to Pratt and I thought it would be a good idea if I tattooed so that I didn't have to go to Providence or New Hampshire. Continue reading →