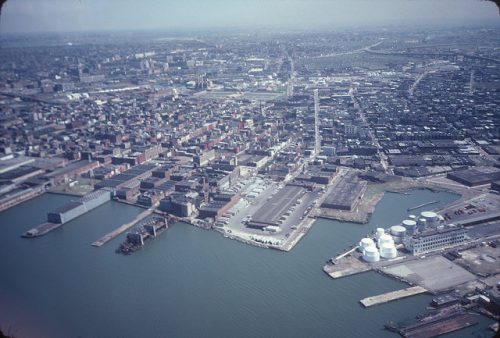 There is no more important geographical feature of Greenpoint than our waterfront defined by piers, wharves and docks, so let us take a moment and examine in more detail the history of our local docks.
In 1845, David Provost, a scion of one of the five ancestral families that farmed Greenpoint, built the first pier at the foot of Freeman Street. Around 1850, the Federal Government also built a dock and a gunpowder storage facility at the foot of Milton Street that was used more for swimming than anything else.
In the 1850s, 12 shipyards lined the East River shore, building wooden clipper ships. Shipbuilding combined with the demand for wooden barrels for the sugar and oil refineries required huge amounts of wood, so Greenpoint became New York's center for lumberyards. Lumber often arrived on three-masted ships where it was unloaded by brawny Irish-American longshoremen like Peter J. McGuinness who was the head stevedore at Orr's lumber yard at the foot of Green Street.
The first pier was built at the foot of Greenpoint Avenue for the local ferry in the early 1850s, which made two stops in Manhattan- one at 10th Street and the other at 23rd Street. A fleet of ferries ran the East River until 1931 when the ferry service was closed in the money-strapped Great Depression.
In 1888, the Noble Street pier was built by the city for the use of the many industrial concerns that covered Greenpoint, but it was not alone. Piers also stretched out from Quay, Oak, Kent, Java, India and Huron.

As Greenpoint industrialized, the swimming holes that once served as pools for kids were filled up and kids began to use the piers to swim in the East River, despite the fact that raw sewage was dumped right into the river. A number of local boys drowned in the swift river currents until the 1930s when Peter McGuinness succeeded in opening the McCarren Park pool, thus providing local kids with a far safer way of cooling off.
Greenpoint never had a commercial railroad that could supply local factories, so the local docks and wharfs played a central role in the local economy. Tugboats like the McAlister fleet also left from local docks, so hundreds of local families were dependent on the longshoremen who worked the East River shoreline.