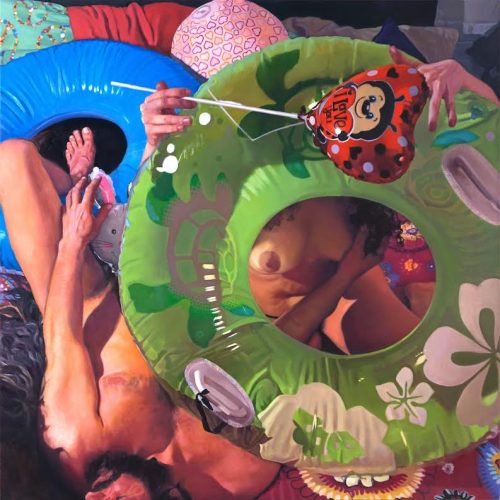 These are dark times, there's no denying it. From political unrest and environmental crisis to smaller gripes like seasonal allergies and MTA woes, it's easy to get bogged down in this concrete jungle we call home. But
Buket Savci
, this week's featured artist, is here with a salve in her magnificently colorful and fantastically buoyant works. Buket's paintings, along with Jacob Hicks', will be the inaugural works at
Wrong Side of the River
(67 West Street, Suite 312) now through May 3. Their exhibition, 
Wonderland
, is a welcome balm to our times and a stunning exercise in collaborative creativity. Below, we get to know Buket and her work, but most importantly her contagious and relentless optimism.
Greenpointers: How long have you been in Brooklyn?
Buket Savci
: I live and work in Brooklyn; I've been in Bushwick for a little over three years. Before that I lived in Astoria for almost 10 years. But I've had my studio in Greenpoint since I received my MFA from New York Academy of Art in 2012. I also studied painting at Pratt Institute in Brooklyn.
I am so glad to hear you enjoy our title for the show. I have been working on these series of paintings for a few years now, which are about the fleeting moments of pure joy and happiness. I create paintings addressing the ephemerality of happiness while using objects like balloons as a metaphor for our short lived contentment.
I really enjoy using saturated vivid colors, and I think everything else is so negative and dark so at least my paintings should be colorful and fun. That's why I use the colors that makes me happy, and I enjoy including humor in my art. But actually I am not that joyful. Life is not easy and I had my share of traumas. Unfortunately a few years ago I had a major depression and even my psychiatrist was constantly telling me that my art will save me. Painting is my passion, and it is this wonderland where anything can happen, so I choose to make it fun and colorful like a playground.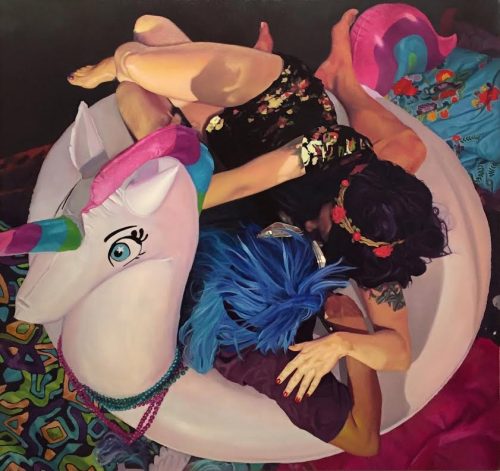 There is this profound quote from a Turkish poet Nazim Hikmet; he asks to Abidin Dino, who was a famous Turkish artist. "Could you make a painting of happiness?" So all these led me to question what is real happiness, when and how we feel real joy, and how do I express this through painting.
Painting lets me live these fleeting moments in detail and throughly over a course of weeks even months. I want to create a niche of fantasy, where both the figures and I as the painter can be just like a child — innocent and playful, carefree and bold. A visual playground far away from all the darkness enclosing us outside and inside, blossomed through sincerity and trust.
Category:

Art/Music, Events, News
Tags:

art, Brooklyn, brooklyn art, Brooklyn art gallery, Buket Savci, events, Greenpoint, greenpoint art, greenpoint art gallery, greenpoint brooklyn, Greenpoint Brooklyn art, greenpointers, Thursday Spotlight, Williamsburg, williamsburg brooklyn, Wrong Side of the River
0 Comments