There are more events in our weekly calendar! Submit Greenpoint events, too!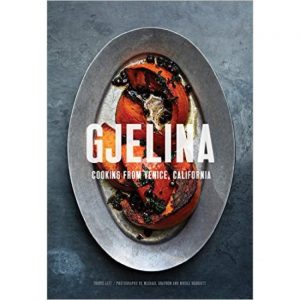 WEDNESDAY 3/15
# Cook the Book: Gjelina @ Brooklyn Kitchen (100 Frost St) 6:30pm, $95, A taste of southern Califiornia to the east coast. An evening of "grain-and-vegetable centric, globally inspired cuisine" inspired by Gjelina, Buy tix
♦ RAW Brooklyn Presents: CUSP @ Brooklyn Bazaar (150 Greenpoint Ave) 7pm, $22-30, 50+ local creatives showcasing talent across mediums such as visual art, photography, accessory design, fashion, performance art, hair & makeup, film & music, Buy tix
=) Fuxedo: The Spring Collection @ Muchmore's (2 Havemeyer St), 7pm, FREE,In fashion, one day you're in, the next day you're out, and the day after that you're watching improv in the back of a bar in Brooklyn. An on-trend evening of comedy, More info
THURSDAY 3/16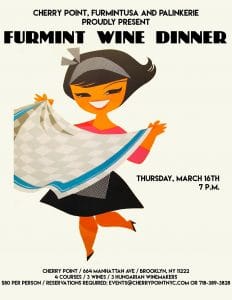 # Furmint Wine Dinner @ Cherry Point (664 Manhattan Ave), 7pm, $80, New American meet Hungarian flavors with four courses, three Furmints, and three Hungarian winemakers, RSVP
♫ Lost Boro: Beats, Raps & Threads @ Tender Trap (66 Greenpoint Ave), 7pm, FREE, One part pop-up shop, one part rap show, equal parts dope, More info
♫ Tortoise w/ Little Black Egg & Tara Jane ONeil @ The Hall at MP (470 Driggs Ave), 7pm, $25, (le) poisson rouge presents: Tortoise w/ Little Black Egg (Georgia Hubley of Yo La Tengo) and Tara Jane O'Neil, Buy tix
Category:
What's Happening?
Tags:

black flamingo, Brooklyn, brooklyn bazaar, brooklyn expo, Brooklyn Home of Music, brooklyn kitchen, Brooklyn Meatball Takedown, cherry point, Coffee & Tea Festival, Farout Taco, gamba, gamba forest, Greenpoint, greenpointers, knitting factory, Metal Yoga, Mothership NYC, mothership nyc greenpoint, Muchmore's, national sawdust, open mic, Output, palinkerie, Persian Arts Festival, pete's candy store, Pickle Gang, Saint Vitus, saint vitus bar, San Damiano Mission, tender trap, The Hall at MP, Videology
0 Comments