There are more events in our weekly calendar! Submit Greenpoint events, too!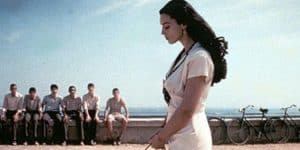 WEDNESDAY 3/8
# ItaliaNites: Malèna @ Archestratus (160 Huron St) 7:30pm, FREE, Viewing of Giuseppe Tornatore's Malèna in celebration of la Festa delle Donne (International Women's Day). A coming of age film, it follows one teenage boy's infatuation with a village siren during World War II Sicily, RSVP
♫ NVRSleep: Across The Pond Edition @ Kinfolk 90 (90 Wythe Ave) 9pm, FREE, An Experimental Music Platform for Today's Creative Class. Audio trip Across the Pond via Jamaal Fisher, Nasty Nigel, Rodney Hazard, and Special Guests, RSVP
=) Popcorn Hour @ Annoyance Theatre (367 Bedford Ave) 9:30pm, $5, See New York's finest comedians put on a show for you that'll leave you much more satisfied than a damn $15 movie and $20 soda. Free popcorn, Buy tix
THURSDAY 3/9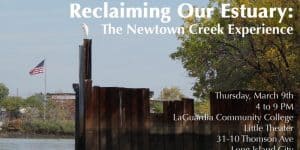 * Reclaiming Our Estuary: The Newtown Creek Experience @ LaGuardia Community College (31-10 Thomson Ave), 4pm, FREE, Learn about rediscovering the commons, our waterway and its life, case studies, and the future of Newtown Creek, RSVP
# Global Flavors: How Curry, Soy Sauce, and Sriracha Became American @ MOFAD (62 Bayard St), 6:30pm, $10, Learn how soy sauce, curry, and Sriracha became part of everyday dining. How have these three distinct flavors come to represent Asian food in the US, Buy tix
♦ FREE LIKE OSCAR: Resistance Through Afro-Latino Culture @ City Reliquary (370 Metropolitan Ave), 7pm, $8-10, A discussion with Melinda González, co founder of BombaYo, on Latino cultural traditions rooted in the African diaspora that are particularly effective at teaching us resistance and resilience, More info
Category:

Culture, What's Happening?
Tags:

826NYC, A/D/O, annoyance theatre, Artist Salon, brooklyn bazaar, Brooklyn Bowl, Brooklyn Brewery, city reliquary, film screening, Flea Market, foday musa suso, free and cheap, gallery awa, gamba, gamba forest, Kinfolk, kinfolk 90, Magick City, masquerade, MOFAD, moonlight mile, Mothership NYC, national sawdust, Newtown Creek, Newtown Creek Alliance, north brooklyn progressive democrats, oddities flea market, Park Church Co-Op, pete's candy store, philip glass, polish film, purim, purim party, Saint Vitus, saint vitus bar, San Damiano Mission, sumo stew, The Bedford, The Moonlight Mile, the well
0 Comments