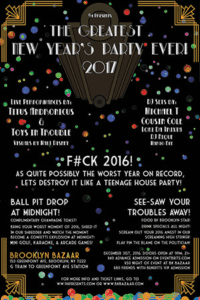 FUCK 2016! As quite possibly the worst year on record, let's destroy it like a teenage house party! Come experience the ball pit drop at midnight! Complimentary Midnight Champagne Toast with our own Ballpit Drop! Bring your worst moment of 2016 on a piece of paper, shred it in our shredder and watch your worst moment become a confetti explosion at Midnight. @Brooklyn Bazaar (150 Greenpoint Ave), Doors open at 9PM. $40 Advance Tickets/ $50 at the door, Buy tix [sponsored]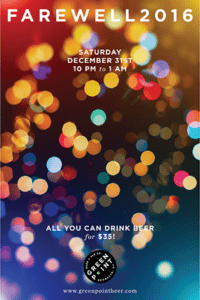 Drink in the New Year with Greenpoint Beer and Ale (7 North 15th St)! From 10 PM to 1 AM we will be serving as much beer as you can drink for $35! There will be dancing plus a toast at midnight for all! Watch the ball drop live on our big screen! 
$35 Open beer bar option online only. $45 at the door. If you do not want open bar there is a $10 cover charge at the door, Buy tix [Sponsored]
There are more events in our weekly calendar! Submit Greenpoint events, too!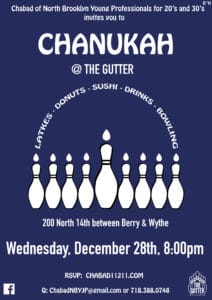 WEDNESDAY 12/28
* Chanukah at the Gutter @ Gutter Bar (200 North 14th St) 8pm, FREE, The Gutter Bar Lights Up! Bowl with Latkes and make sure the donuts don't end up in the gutter. Menorah Lighting and drinks. For young professionals in your 20's & 30's (ID required). Fun & Food is on us, Bourbon & Bowl is on you, RSVP
♫ DEATH MATCH 2 @ Tender Trap (66 Greenpoint Ave) 9pm, FREE, There will be music! There will be a NO RING wrestling match! There will be TOYS! There will be blood! There will be UNSTOPPABLE DEATH MACHINES! There will be the highly anticipated DEBUT of TIGHT FRIGHT(Former members of Big Bitch)!, RSVP
Continue reading →
Category:
What's Happening?
Tags:

brooklyn bazaar, dharma punx meditation, doctors without borders, Experiment Comedy Gallery, Greenpoint Beer, greenpoint beer and ale, happy new year, House of Yes, maha rose, Muchmore's, new years eve 2016, NYE 2016, pete's candy store, Saint Vitus, saint vitus bar, The Gutter, Videology, writer's slam
0 Comments