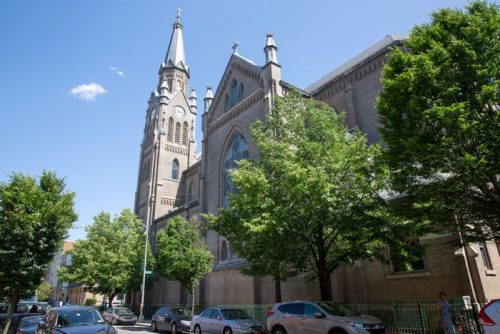 This story was originally published on 6/3/19 by THE CITY. (By: Claudia Irizarry Aponte)
Catholic officials on Monday abruptly canceled speeches by two right-wing Polish figures at Brooklyn churches after local leaders's protest letter to Brooklyn Bishop Nicholas DiMarzio and inquiries by THE CITY.
Historian Ewa Kurek, who has claimed some Jews collaborated with Nazis and enjoyed the German-occupied Polish ghettos of World War II, was supposed to speak this week at three churches: St. Stanislaus Kostka in Greenpoint, St. Frances de Chantal in Borough Park and Our Lady of Mount Carmel in East Harlem.
Meanwhile, Polish far-right politician Robert Winnicki was also set to appear at St. Stanislaus Kostka. He's the leader of the "National Movement" (Ruch Narodowy), a nationalist Polish political party.
But as anger over the events spread over the weekend, local activists drafted a letter to DiMarzio, urging the Church to "stand up for the common good, working towards a more loving and cohesive society while remaining neutral within such mired politics." Continue reading →