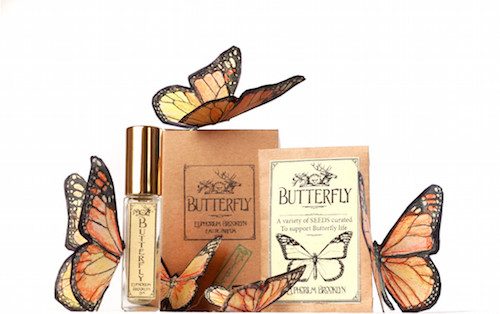 Greenpoint sports a lot of green. From McCarren Park to the G train, our slice of north Brooklyn is colorful. In fact, Greenpoint's natural greenery has inspired Euphorium Brooklyn's newest fragrance, Butterfly. Ten years ago, when olfactory artist and perfumer Stephen Dirkes moved into a loft on Commercial Street, he noticed that the weeds and wild flora growing on the banks of the Newtown Creek supported something stunning: the annual Monarch Butterfly migration between Canada and Mexico. Each year, the butterflies descend on the northern reaches of Greenpoint, heralding summer and bringing a spectacular natural grace to the industrial waterfront.
Stephen notes that while Newtown Creek's wild plant life might be "a peculiar starting point to develop a fragrance palette, butterflies have done a remarkable job of curating a wide range of fragrant floral, mint, grass, & herbaceous notes for a perfumer to work with."
And the fine fragrance world is all aflutter over Butterfly. Reviews call it "bright, clear and sparkling…unearthly and ethereal" and mark it as the go-to scent of the summer. But, Butterfly didn't begin as a fragrance. Instead, it started as a local conservation effort.
When Greenpoint's zoning laws changed, new development began to spring up on the water's edge, where plants once grew undisturbed. Suddenly, the Monarch's migratory path faced peril, and Stephen began researching butterfly gardens as a way to help sustain the natural habitat. Now, Stephen's made it possible for anyone to be an armchair conservationist! Continue reading →