Receive What's Happening? via email!

There are more events in our weekly calendar. Submit Greenpoint events, too!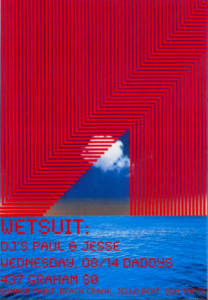 WEDNESDAY 8/14
♥ The Neverending Story @ McCarren Park (Bedford & No. 12th) 6pm, FREE, Last SummerScreen of the season! Screening begins 8pm, Music by Aa (aka Big A Little A) / Ratking / Amen Dunes / Chota Madre. Need a reminder of how cool this movie is? Flash back to your childhood with this epic trailer.
•  Eating Your Feelings @ Word (126 Franklin St.) 7-8pm, FREE, Essayist, Mark Rosenberg, hosts real talk about body image in honor of his new collection, Eating My Feelings, covering his adventures from childhood fat camp to personal trainer flirtations. RSVP
•  Midweek Mayhem @ Boulevard Tavern (579 Meeker) 9pm-midnight, FREE, get over the hump with $6 cocktails.
•  Wetsuit @ Daddy's (437 Graham Ave.) 10pm, FREE, Summer night party with DJ's Paul and Jesse, RSVP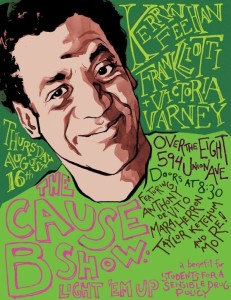 THURSDAY 8/15
♦ Puppet Parade and Pageant @ McGolrick Park, 3:30-5pm, FREE, Join kid Greenpointers, as they parade their handmade puppets and masks through the neighborhood to McGolrick Park, culminating in an original performace about the story of Newton Creek, More Info
•  Sample Sale @ Swords-Smith (98 S. 4th St.) 4-9pm, FREE (through 8/18), Featuring clothes and jewelry from In God We Trust and other designers, with Brooklyn Brewery Beer and Thorny Rose wine, RSVP
♫ Kid Dynamite / Joyce Manor / Red Hare / Swearin' @ House of Vans (25 Franklin St.), 6pm, FREE with RSVP
♫ Potion Presents: MAD CHEMISTRY @ The West (397 Union Ave.) 7-10:30pm, FREE, Featuring acoustic performances by Cody Swanson / Andrew Sellers / Workman Song
•  Chicken Premiere @ Bow Tie Cinemas a.k.a. Clearview Chelsea (260 West 23rd St.) 7pm, FREE, screening and after-party for a dark comedy about a Thai delivery man, shot in Greenpoint, Watch the teaser, More Info
☺ The Cause B Show: LIGHT IT UP @ Over the Eight (594 Union Ave.) 8:30pm, FREE (+ free beer with donation!), Stand-up comedy show to benefit Students for Sensible Drug Policy, an organization that empowers youth to become politically active in the fight against Drug War policies, RSVP
FRIDAY 8/16
• Williamsburg Loves Dumont @ Union Pool (484 Union Ave.) 6pm-midnight, Fundraiser to support the family of Dumont owner, Colin Devlin, whose tragic death was strongly felt in the local community. Raffles, Tacos and performances by American Darlings / Dead Stars / Eastern Hollows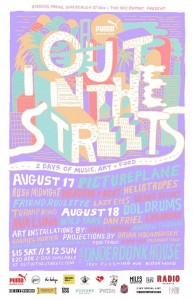 SATURDAY 8/17
♫ Out in the Streets Festival @ Onderdonk House (1820 Flushing Ave, Ridgewood) thru Sunday (8/18) 1pm, $20 Saturday/$12 Sunday, set in the backyard of a historic Ridgewood home this weekend fest will feature 2 days of indie bands, installation art, pop-up shops, and food trucks, OPEN BAR both days from 2-3pm, RSVP
♫ Sleepies / EULA / Big Ups / Shark? / Low Fat Getting High @ Rippers @ (Rockaway Beach 86) 6pm, Free (Suggested donations go to Restore Rockaway)
♦ The Crest Hardware Art Show Closing Reception @ Crest Hardware (558 Metropolitan Ave.) 6-10pm, FREE, Celebrate the closing of Crest's annual group show, with work from 150 artists, RSVP   
♫ Britpop with The Common People @ TBD Brooklyn (24 Franklin St) 8pm, FREE, Nostalgic for 90's indie faves like Oasis, Blur, and The Smiths? Dance the night away and pretend the year 2000 never happened.
SUNDAY 8/18
• Williamsburg Fashion Weekend Summer Party @ Secret Project Robot (389 Melrose St.) 2pm-1am, FREE, Celebrate Runway Passport's first online boutique with a fashion show, featuring the work of independent designers, drinks, and shopping, RSVP  # Salo Tatlo @ The Mothership (252 Green St.) 6-10pm, $45, Enjoy a multi-course meal in a rooftop setting, featuring regional Philippino street food and grill fare from Greenpointers contributor and chef extraordinaire, Yana Gilbuena, RSVP, BUY TIX
♫ The Piggies / Threats / Hard Nips @ The Grand Victory (245 Grand St.), 8pm, FREE, featuring a backyard BBQ with cheap plates!
MONDAY 8/19
♦ Potion Collective Open Mic Night @ Brooklyn Fire Proof (119 Ingraham St.) 7:30-11:30pm, FREE, Artists of all mediums welcome! To enter, email potioncollective [at] gmail.com.
* Meeting on Crime @ Church of the Ascension (127 Kent St.) 6:30pm, FREE, Join the Greenpoint Neighrborhood Watch to discuss the recent spike in neighborhood crime with local police officers.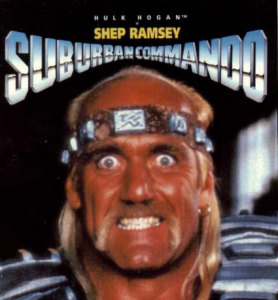 TUESDAY 8/20
• WORD's  At the Waterfront with Atlas Review, Electric Literature, and Emily Books @ WORD (126 Franklin St) 7-8pm, FREE, Enjoy an evening of summer readings by Matt Donjny, Alex Morris, Helen Phillips, and Montana Ray, RSVP
♦ Good Vibrations Salon Series @ Java Studio Gallery (252 Java St, Suite 308) 7-10pm, FREE, 4th installment of the salon series built around Good Vibrations, a project that merges science and the sublime by artist, David Melrose, this week's theme is Worship of the Sun (it's all solar)
♥ Bad Movie Brooklyn Presents Suburban Commando @ Berry Park (4 Berry St.) 8pm, FREE, watch Hulk Hogan play intergalactic warrior, Shep Rampsey, who crashes on Earth and must learn to blend in, while avoiding deadly bounty hunters (this is a very serious art film, which you must watch un-ironically)
♫ Music
♥ Pheremones likely
♦ Art Event
☺ Comedy Event
# Foodie Event
Category:

Events, What's Happening?
Tags:

art show, benefits, comedy shows, community events, Concerts, events, free events, fundraisers, greenpoint art, live music, music shows, parties, weekend, what's happening
0 Comments