Receive What's Happening? via email!


There are more events in our weekly calendar. Submit Greenpoint events, too!
WEDNESDAY 5/29
♫ Weed / Call Of The Wild / Cascada / Giant Peach @ Death By Audio (49 S 2nd St) 8pm, $7
♫ Hungry March Band @ Brooklyn Bowl (61 Wythe Ave) 8pm, $5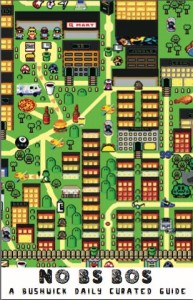 THURSDAY 5/30
* Spring Fling @ PS31 (75 Meserole Ave) 4-7pm, $1 fundraising event, open to the public, face painting, bouncy house, arts and crafts
♦ Adaptfest @ Center for Performance Research (361 Manhattan Ave) 7-10pm, $15, More info
♫ Confronting Bushwick 2: The Politics of Empty Buildings / Bushwick Daily Launch Party @ Art Helix (299 Meserole St) 7pm, panel discussion, town hall meeting following by launch party for Bushwick Daily's First Print Publication "NO BS BOS" A Curated Guide to Bushwick Open Studios, DJ Set by THE DRUMS!, RSVP
♫ Tropic of Pisces / Corbu / Wanda & Wonder @ Silent Barn (603 Bushwick Ave) 8pm, $8
♫ Shilpa Ray / The Veda Rays / Haybaby / WALTZ @ Union Pool (484 Union Ave) 8pm, $8
♦♦♦ All Weekend (5/31-6/2) : Bushwick Open Studios, FREE, a three day arts and culture festival that celebrates the community's vibrant arts scene with the goal of fostering dialogue and collaboration between local artists and residents, More info ♦♦♦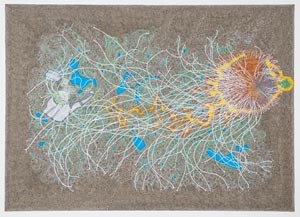 FRIDAY 5/31
♦ ORANGATANG(sic) @ Picture Farm (338 Wythe Ave) 6-9pm, an exhibition of photographs, drawings and prints by Bill Abdale, Steven Rose and Joanna Seitz, RSVP
♦ Based On A True Story @ Pierogi Gallery (177 No. 9th St) 7-9pm, an exhibition of new work by Daniel Zeller, More info
♫ Glank All Ages Show @ Secret Theatre (4402 23rd St, LIC) 8pm, $15, Suit-up in lab coats, blend in with the performers and have a blast at this interactive, multi­media music performance, More info
• Grateful Dead Night Featuring Dead Tape @ Europa (98-104 Meserole Ave.) 8pm, $10, Buy Tix
♫ Secret Band / Lodro / Darlings / EULA / Ric Leichtung @ Shea Stadium (20 Meadow St) 8pm, $10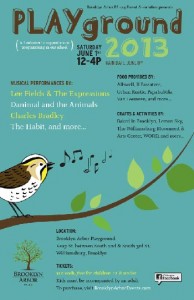 SATURDAY 6/1
• 119 Underground @ Jewel St Paradise (119 Jewel St, BSMT) 12-6pm, "a new way to shop local," ceramics, paper goods, refreshments & performances – all in a Brooklyn basement, RSVP
* Brooklyn Arbor Playground Festival @ PS414 (325 South 3rd St) 12-4pm, $10, Free for kids under 12, a family music, craft, and food festival on the school playground, obstacle course, face painting, breakdancing, story time, dance performances, arts & crafts, kids dance party, food by Urban Rustic, Allswell, Il Passatore, Van Leeuwen, Papabubble, Buy Tix
♦ Punk Your Way Shop @ Dobbin Project Space (50 Dobbin St) 12:30-6pm, Cost: 5 Brooklyn Torches, Hack using Punk's Code and get paid for it. Hacking Couture will open a pop-up atelier during the Brooklyn Torch Trade Store. Hack your fashion, Thru Sunday, More info
♫ The Call Up @ Boulevard Tavern (579 Meeker Ave) 9pm, Free, Reggae, Soul & Punk, all vinyl spun by DJ's Sandinista and Tiny Gem, $5 all YOU can eat BBQ, RSVP
♫ Grass is Green / Ovlov / Appomattox / Miniboone @ Big Snow (89 Varet St) 8pm, $7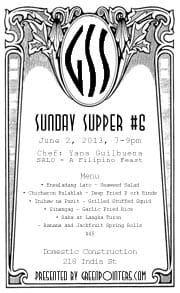 SUNDAY 6/2
♥ Sunday Supper # 6 : SALO A Filipino Feast @ Domestic Construction (218 India St) 7-9pm, $45, Prepared by Yana Guilbuena, Menu: Seaweed Salad, Deep Fried P ork Rinds, Grilled Stuffed Squid, Garlic Fried Rice, Banana and Jackfruit Spring Rolls, Brooklyn Gin Cocktail, Reserve Supper
☺ Run From The Police Comedy @ Muchmore's (2 Havemeyer St) 8:30-11pm, FREE, a mix of the best professional and amateur comedians performing today, beer,wine, soju and espresso, also laundry rooms in the back if you feel like getting your Sunday laundry done with a comedy backdrop,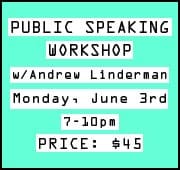 MONDAY 6/3
• Public Speaking Workshop @ Dobbbin Project Space (50-52 Dobbin St) 7-10pm, $45, 3-hour workshop, participants will get expert coaching and feedback on ways to strengthen their presentation skills, from techniques to calm frayed nerves to exercises designed to build confidence and improve focus, More info
TUESDAY 6/4
♥ Things That I Have To Tell You Right Now (and other tales) @ Cafe Royal (195 Nassau Ave) 7-9pm, FREE, read, sing, show, and tell us anything you want under 10 minutes, participation optional, More info
* Greenpointers' Pick
♫ Music
♥ Pheremones likely
♦ Art Event
☺ Comedy Event
# Foodie Event
Category:

Events, What's Happening?
Tags:

art exhibitions, art openings, art shows, bands, bushwick events, bushwick open studios, Comedy events, community events, Concerts, free events, fundraisers, Greenpoint Events, kids events, live music, performances, public events, Supper Club, underground suppers, what's happening, williamsburg events
0 Comments