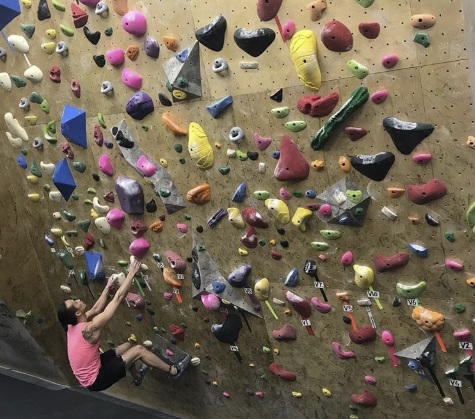 Greenpoint is home to dozens of interesting, creative micro-communities, from potters and runners to actors and musicians, but none is more daring than the rock climbing community whose amazing ability to scale sheer rock faces and even mountains inspire awe in those like me who fear heights.
Until recently local climbers had no home, but that has changed in the past year. I recently became acquainted with the guru of the local climbing community, Cliff Simanksi, who has constructed a climbing gym that has won rave reviews from experienced climbers and an online climbing magazine. His gym, known as GP81 (81 Quay St.), is a business, but for Simanksi it's a love and an endeavor he has poured heart, soul and copious sweat into creating. Simanski splits operating duties of the facility with Julian Acevedo, and founding partner Mike Cesari has stepped away fromb the day to day operations.
The 6,500 square-foot venue features walls of 35, 45 and 60 degrees, another of 40 degrees and there are also multiple hang boards, campus board setups, weights, and other training-focused items to help climbers reach new levels in their climbing.