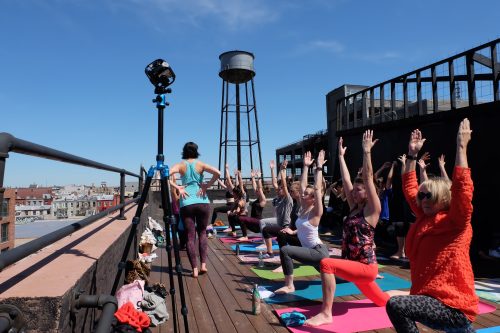 This Sunday (April 22, 1-7PM), our Gardens of the Galaxy Spring Market is happening and it's got a jam-packed schedule of FREE activities including yoga and bootcamp sessions on Greenpoint Loft's beautiful roof deck with views overlooking the Manhattan skyline and East River. Here's the schedule:
Fitness Bootcamp by YMCA
1:30PM Session
2:15PM Session
Yoga by Hosh (Bring your own mat)
3PM All Level Vinyasa with Emi
4:30PM Reset and Restore with Melissa


The Greenpoint YMCA's 30 minute fitness bootcamp is a challenging and fun total body workout using plyometrics, pushups, squats, planks, and more! All levels welcome.
Click here to reserve your space for the YMCA Fitness Bootcamp Session 1: 1:30pm
Click here to reserve your space for the YMCA Fitness Bootcamp Session 1: 2:15pm

Starting at 3pm, Hosh Yoga will be holding two donation-based 60 minute rooftop yoga sessions. BYOM (Bring your own mats!) 
All Level Vinyasa Flow @ 3pm w/ Emi Iwasa (Hosh Yoga instructor):
Open to all levels and all bodies, this class will focus on the Vinyasa practice of linking breath and movement while flowing from one pose to the next. We will focus on building both strength and flexibility, while guiding the body and mind toward a sense of grounding. Come join us on your mat and enjoy rooftop views, as you flow with a local instructor! Click here to reserve your space for Hosh Rooftop Yoga session 1: 3pm
Reset & Restore @ 4:30pm w/ Melissa Kaitlyn Carter (Hosh Yoga):
Get ready to ground down, restore, and reset. This class will begin with a slow flow, move into restorative postures, and conclude with a meditation. Open to all levels. Click here to reserve your space for the Hosh Rooftop Yoga Session 2: 4:30pm
We will also have plenty of other free fun activities throughout the day including… Continue reading →
Category:
Events
Tags:

capture me in 3D, gardens of the galaxy, Gardens of the Galaxy Spring Market, Greenpoint YMCA, greenpointers photo booth, Henna Tattoo, hosh, hosh yoga, Main Street Radiology, Miss V, nail art, Peenk, Rooftop yoga, Spring Activities, spring market, Tarot Card, The Josh Craig, YMCA, Yoga
0 Comments