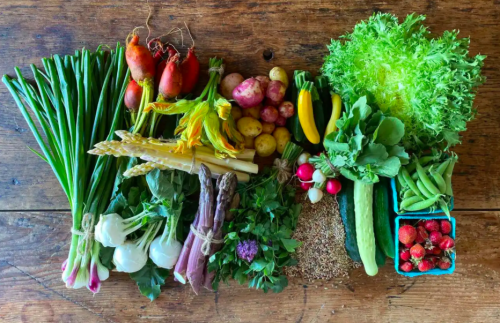 There's no need to leave the city, or even the neighborhood, to pick up Blue Hill Farm's sought-after food boxes. To offset potential food waste during the pandemic, the Tarrytown-based farm, agricultural center, and in normal times, highly acclaimed Stone Barns restaurant has been vending farm boxes for pre-order and pickup at its Westchester campus and Manhattan restaurant since the early days of the pandemic.
Now, Blue Hill is expanding its pickup area to include Greenpoint, Carroll Gardens and The Hamptons, as part of its ongoing resourcED food box program.
Greenpoint customers can pay a $10 delivery fee to pre-book a time slot on Sundays via Tock, when the ordered items will be available for pickup at 132 Franklin Street (the former location of a laundromat).


Blue Hill's Greenpoint menu includes packages of farm-fresh Hudson Valley produce, organic eggs, a salad kit, chicken and turmeric broth, whole wheat bread, dairy products and beverages like wine, cocktails and Blue Hill's kombucha. Continue reading →