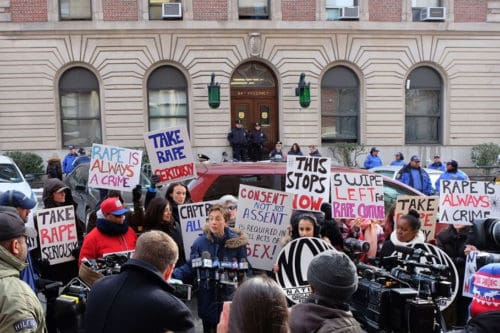 Greenpoint's own 94th Precinct police station (100 Meserole Avenue) was the site today for an organized protest following Captain Peter Rose's remarks to a DNA Info reporter last week that sparked not only local concern but also social media outrage and nationwide attention. His comments insinuated that the police may prioritize cases of "stranger rape" over cases where the perpetrator was known to the victim.
"It's not a trend that we're too worried about because out of 13 [sex attacks], only two were true stranger rapes," Rose said in the DNA Info article. "If there's a true stranger rape, a random guy picks up a stranger off the street, those are the troubling ones. That person has, like, no moral standards," he said.
These comments come on the heels of a string of rape cases in Greenpoint last fall, in addition to reports of women being publicly groped, and police response to those events gave local residents enough concern to form a task force.
Captain Rose released a formal apology yesterday via Twitter stating, "Every rape, whether it is perpetrated by a stranger or someone known to them is fully investigated. We make no distinction in our response. My comments suggested otherwise and for that I apologize." Despite the apology, the NOW protest planned for this afternoon in front of the precinct moved forward, with about 20-30 protesters in attendance and almost as many police personnel in front of the precinct keeping watch.
Continue reading →
Category:

Community, News
Tags:

94th Precinct, assault, attack, Crime, Greenpoint, groping, now, nypd, peter rose, rape
0 Comments