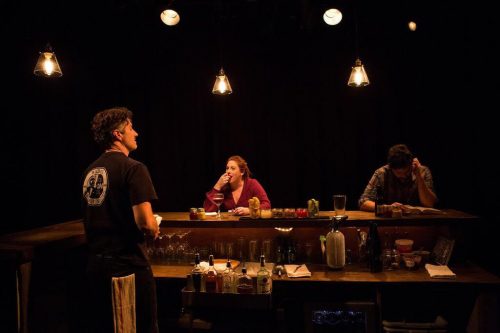 It serves pickled pomegranate, fried chickpea, and grilled sage.
No, it's not the organic/gluten-free/farm-to-table market down the street; it's the rustic gastropub in The Bushwick Starr's (207 Starr St.) new play [porto] — though based on Brooklyn's artisanal food scene trends, these bites might soon appear on your go-to bar's menu. And like those snacks, the play is a concoction of the satirical, savory, and flat-out strange.
[porto] is part of this year's (and the second annual) Exponential Festival, a theatrical series promoting works created in New York and performed in Brooklyn. Kate Benson's funny, meandering, and world-premiere play centers on Porto, a young woman for whom the hipness of Brooklyn's cultural and foodie offerings has perhaps grown dull.
Category:

Culture, Events
Tags:

art in bushwick, art review, bushwick starr, Chez Bushwick, cpr, exponential festival, The Brick, the brick theater, theater, Triskelion Arts, vital joint
0 Comments