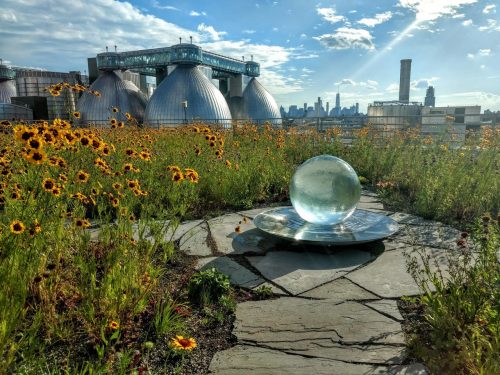 More green roofs will be constructed in Greenpoint thanks to a state environmental fund. Today, North Brooklyn's State Assemblyman Joe Lentol announced a $1.5 million state grant awarded to Broadway Stages in a partnership with Alive Structures to construct a total of 1.4 acres of green roofs at three of their local soundstages.
The success of Kingsland Wildflowers green roof, which opened in 2016, demonstrated a way forward for the North Brooklyn area to transform rooftops at a large scale. In a statement, Assemblyman Lentol said that the green roofs will provide many benefits for the natural environment.
"Kingsland Wildflowers at Broadway Stages was a great success and is the perfect example that shows the potential of this project. I am very excited that this grant funded such a great project right here in Greenpoint. It will add green space, improve the environment and provide a natural habitat for countless beneficial insects and birds."
The Greenpoint Community Environmental Fund initially backed the Kingsland Wildflowers roof that was created through a partnership between the Newtown Creek Alliance, Broadway Stages, Alive Structures and NYC Audubon.