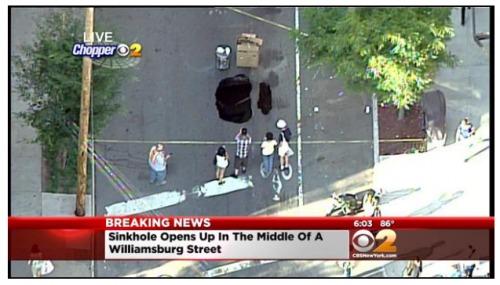 It's like India Jones out there, guys. A 6-foot sinkhole opened up on Driggs and Metropolitan on Wednesday, to the horror of passerby's. Thankfully, CBS had a live chopper that had no where better to be.
Audi has installed a massive LED scoreboard on the shores of Greenpoint, using the World Cup as an opportunity to make their company more appealing to hip Brooklynites…has anyone seen this thing?
On the subject of the ol' waterfront, more affordable housing was just approved at 145 and 155 West Street, as part of a new 39-story mixed-use development.
The New York Post says that "hipsters" are "hijacking" Brooklyn juries because they are well-educated and confident (serious over generalization??). They're calling it the "Williamsburg Effect," which leads juries to rule against defendants, and place more trust on police.  Continue reading →