Winter is coming here and it's quite possible that we're going to have another snowpocalypse on our hands. But hey, it's a new year. And we're not gonna let a little snow stand in our way, am I right? Here are some things to do on this here first weekend o' 2014.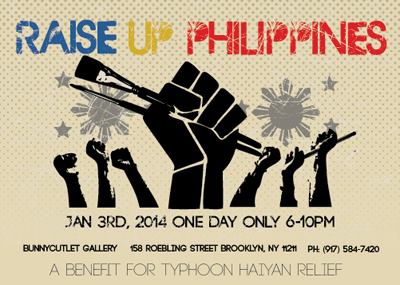 Friday 1/3
* Rise Up Philippines: An Art Benefit for Typhoon Haiyan Relief @ Bunnycutlet Gallery (158 Roebling St) 6-10pm, FREE, bid on a selection of "low-brow," graffiti, pop, and street art through silent auction, all proceeds go to UNICEF Philippines, RSVP
* Swearin' / Cymbals Eat Guitars / Low Fat Getting High @ Brooklyn Night Bazaar (165 Banker St) 6pm-midnight, FREE, More Info
* Yvette / Christines / Future Punx @ Glasslands (289 Kent) 8pm, $10, RSVP Continue reading →
Category:

Culture, Events, What's Happening?
Tags:

2014, brooklyn bazaar, events, future punx, game of thrones, greenpoint weekenend, tea towels, things to do, yvette
0 Comments